Wednesday, August 31, 2005
Course chat
"Sense of humour must for cartoonist's job"
Vibha Sharma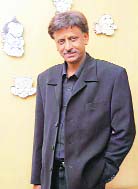 Sudhir Tailang
YOU can count the number of political cartoonists in India on your fingertips. In fact, in the words of well-known cartoonist Sudhir Tailang, "Cartoonists, like tigers, are an endangered species in the country. But we are not as ferocious."
Tailang, who made his first cartoon in 1970, when he was just 10 years' old, started his career with the 'Illustrated Weekly of India', Mumbai, in 1982. In 1983, he joined 'Navbharat Times' in Delhi. And for a major part of his career, nearly 17 years, he was with the 'Hindustan Times'. In between, he did a couple of short stints with the 'Indian Express' and the 'Times of India'. His present assignment is with the 'Asian Age'.
When asked what advice he would give to those wanting to become professional cartoonists, he says in a lighter vein, "Why would anyone want to commit harakiri?"
But on a serious note, Tailang describes his job thus: "Remember the story of the emperor and his new clothes. A political cartoonist is like the child in the story who told the emperor that he was wearing no clothes."
"A cartoon is a political comment. A political cartoonist draws a visual editorial, and also manages to make fun of people and situations that some editorial writers may not have the liberty to do," he adds.
Anyone aspiring to become a political cartoonist, must possess a journalistic worldview and analytical abilities in addition to the basic ability to draw, he feels.
"This is not a run-of-the-mill profession and I have been quite fortunate to land myself good jobs. But I have never been through an arts college. In fact, I am a science graduate and postgraduate in English literature."
"One cannot train to become a cartoonist and most of us are self-taught. But what you do require is a sense of humour, a sense of mischief, a crazy sort of personality and a passion for doing something different," he adds.
"If you are an IT professional, you will have hundreds of work options. But opportunities in this profession are limited.`A0 You have to go a long way before making a mark, which requires a lot of patience and persistence."
However, he opines, times are changing and there is now some scope for cartoonists in the electronic media and animation. But in the print media, it is still tough to carve a niche for oneself. For beginners, he has this suggestion, "Go and meet editors, show them your work, and get it published. Freelancing is another option, but it is tough going. Money wise too, this field is not too lucrative in the beginning." Twentyeight years into cartooning, E.P. Unny is now a veteran in the field. He started his career with 'The Hindu', where he worked for almost 12 years.
Later, he moved to Delhi and joined 'The Economic Times'. At present with the 'Indian Express', his political comments in "Business as usual" are well known. Simply passionate about his work, Unny says one cannot plan to become a cartoonist.
"I started by sending a couple of cartoons to 'The Hindu', the then Editor liked my work and asked me to join the newspaper."
"One essential quality for becoming a cartoonist is the ability to draw with a comic twist, it's not about faithfully reproducing pictures."
"Cartooning is not a structured career like engineering, medicine or law. The bottom line is — it is not a routine career," he points out.
"One way to begin is to try and get your work published. There is no such thing as professional training, one just learns on the job,"
Unny opines.