Wednesday, August 31, 2005
Work wise
"Career counselling must for choosing domains in IT sector"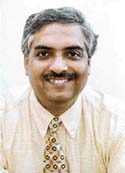 Mahalingam C.
The selection process in the IT sector is becoming more stringent, says Mahalingam C, Senior Vice-President, HR, Symphony Services, an enterprise with core competencies in commercial grade software product development, headquartered in CA (USA), with India locations in Bangalore, Mumbai and Pune. Here, he dwells on the hiring policies:
Are you drawing talent from`A0the non-metros or tier-II cities? Any gaps in the skills that need to be filled?
We do draw talent from around all parts of the country. We conduct our walk-in interviews in such places like Pune and Hyderabad besides the major metros and also source resumes from the leading job boards. Our employee population comprises people from all the small and big towns of the country and we invite our employees to do 'employee referrals' to bring their friends to look at opportunities with Symphony. We do not find any gaps in skill sets generally, but there is a general scope for the candidates to become even better. Since IT professionals seek job changes far too often, they are not able to pick up domain competence in any area, which is not helping the companies, or the candidates themselves. Here is where we believe the candidates need maximum counselling and career guidance.
What are the work values and attitudes that you look for in new recruits?
We look for employees that fit into the Symphony culture and are able to align to our value systems. Our work values emphasis on team work, integrity, trust and respect. We believe in having an open work culture for employees to exchange ideas and think innovatively. While recruiting we not only focus on strong technical skills, but also lay significant emphasis on individuals who have the drive to take on the challenge of meeting the dynamic customer requirements. We look for individuals who believe in going the extra mile to delight clients.
What are the emerging shifts/trends in hiring practices, especially`A0in the IT sector?
No drastic change except that (a) interviewing and selection processes have become even more stringent. In product companies like ours, we do multiple levels of interviews to make sure we really hire the best and (b) pre-employment and post-employment verifications have become much more prevalent than before to make sure the candidates' claims are not exaggerated and are accurate.
Is temporary staffing/hiring catching up in India and what are`A0its future prospects?
This phenomenon is true in the BPO space — specifically among call centers — but at companies like Symphony Services which are at the high-end of the IT value chain, this is not applicable as we are an extended arm of the client organisation and every employee needs to be working in and out of the client product to be able to deliver the future requirements.
At what levels do you recruit newcomers and is it an ongoing process or need-specific?
We mostly hire software professionals with minimum two years of prior experience. But there are certain roles that require freshers and we hire MBA and engineering graduates from reputed institutes.
— Chetna Keer Banerjee