PUNJABI ANTENNA
Starry road show
Randeep Wadehra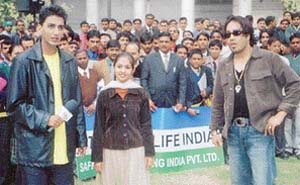 Anirudh (left) with Mika and a guest in Ridka On Road
IT'S unthinkable that people don't count in a democracy. But, this had become evident when a political game was played out in Punjab during the 1980s and '90s, turning common folks into expendable pawns. Political expediency decides the fate of an issue today because our secular-democratic edifice stands subverted since long. In the post-Nanavati scenario, for the Akali Dal, only 1984 riot victims matter, not because the Dal is moved by their prolonged agony but because they're a potent vote bank. What happened in Punjab before 1984 is nobody's concern, of course. This came out clearly in Khabarsaar. When Ritesh Lakhi and a senior journalist pointed out that 1984 wouldn't have happened had prompt action been taken when killings first began, Sukhbir Badal sidestepped the issue.
He was more interested in scoring brownie points-in-absentia vis-à-vis Amarinder Singh. Full marks to Lakhi and the guests for keeping the debate polite despite the emotive issues involved.
It was celebration time for Kakka Nikki Times (ETC Punjabi). Anchors Divya and Dixit celebrated the show's 100th episode in the company of Sardool Sikander and Amar Noorie. The guest couple certainly didn't disappoint. The interaction was quite entertaining and the finale had Amar and Sardool bopping to the tune of their popular numbers, along with Divya and Dixit.
ETC Punjabi has come up with a new celebrity-based road show, Ridka on Road, anchored by Anirudh Sharma. The first episode telecast during the fortnight showed Pammi Bai interacting with people, answering their questions and organising impromptu competitions for the folks. Ditto for Mika in the second episode.
The popular Mubarakaan (Zee Punjabi) has gone off air. Its anchor, Kamaldeep, has quite an impressive screen presence and she's now doing Rang Punjab De for MH1 (Saturdays 8 pm, repeat on Tuesdays 4.30 pm). Zee Punjabi can ill afford such losses. Kamaldeep has glamour and talent. More importantly, Zee Punjabi had invested a lot in developing her as an artiste. So, why let go of an asset for reasons that are not clear?
Even as MH1 is taking firm strides towards uplifting its profile, Balle Balle is still floundering. Most of the time it telecasts music videos with lots of skin show. One wishes it comes up with Kujh Yaadan Kujh Geet type of productions wherein the likes of Lakhwinder Wadali are showcased. Smut is passé.