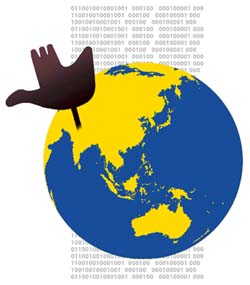 These Chandigarh lads have opened windows of opportunities for themselves in the IT world in the US. Driven by hard work, brainpower and entrepreneurial skills, they largely attribute their smooth flight to lack of red tape in the new country. Reeta Sharma reports
MANY an IT talent from Chandigarh, who headed for the US in the late 1980s and '90s for greener pastures, has made a mark. Interestingly, most of them are alumni of Punjab Engineering College, which is now a deemed university. As we browse through the IT world and click on the stars from Chandigarh who have found a pie in the US sky, a few success stories unfold.
Date with Destiny
CALL it a confluence of the North and the South, or a fusion of classical and pop, but when Daler Mehndi and Hariharan come together for one album, they are bound to make 'Destiny'. Destiny — the music album produced by Dnuo Music, features pop singer Mehndi from Punjab and Ghazal exponent Hariharan from the South for the first time.
Pam on the wagon
SEXY actress Pamela Anderson has decided to follow a daily fitness regime and quit drinking, in order to stay off hepatitis C treatment for as long as possible. Anderson was diagnosed with the blood disorder two years ago ,and was advised to take proper care of herself , due to he love for champagne.