PEC boys on top of IT
These Chandigarh lads have opened windows of opportunities for themselves in the IT world in the US. Driven by hard work, brainpower and entrepreneurial skills, they largely attribute their smooth flight to lack of red tape in the new country. Reeta Sharma reports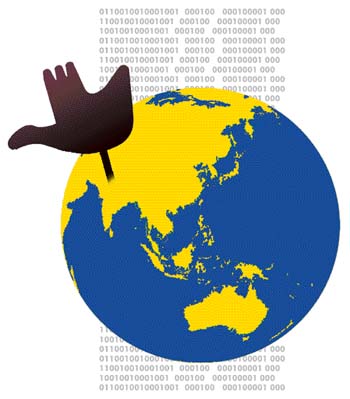 MANY an IT talent from Chandigarh, who headed for the US in the late 1980s and '90s for greener pastures, has made a mark. Interestingly, most of them are alumni of Punjab Engineering College (PEC), which is now a deemed university. As we browse through the IT world and click on the stars from Chandigarh who have found a pie in the US sky, a few success stories unfold.
Pradeep Bakshi studied production engineering at PEC. In 1986, he joined Stanford University to do his Master's in industrial engineering and management.
"We decided to start a company because the systems in the US facilitate individual effort. If one has the capability, the country goes out of its way to give you opportunities. Of course, one has to work hard. Here, the system demands perfection, which is hard to achieve. Each company has to do what is good for the shareholders. I worked for Sun Microsystems, which gave me exposure. The experience came in handy in our own venture. All the same, our company Second Foundation faced stiff competition but we could tackle it successfully. At present we are getting our work done from Chandigarh, where we have opened an office," says Bakshi.
Second Foundation was the brain wave of three PEC graduates, namely Bakshi, Shree Ram and Raman. Shree Ram, after completing production engineering from Chandigarh, landed in the US in 1993. For two years he worked in the Silicon Valley in San Francisco, and established his credentials in marketing. It was a combination of brainpower and hard work that opened the doors of success for Shree. This young man, far more mature than his age, displays confidence that is acquired after going through the rigours of life. He took a calculated risk and quit his job to become an entrepreneur. It speaks volumes for the perseverance of these three youngsters that in a span of eight years, Second Foundation — established in 1996 — has achieved a turnover of over $ 15 million.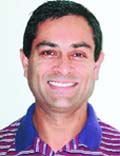 The brain drain from India is not on account of youngsters chasing money but for the sheer pleasure of achieving your dreams without any obstacles.

Shree Ram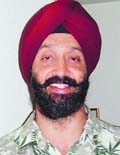 We decided to start a company In the US because the systems there facilitate individual effort. If one has the capability, the country goes out of its way to give you opportunities.
Pradeep Bakshi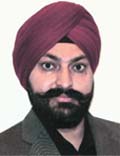 Chandigarh is going to be the next destination for outsourcing after Bangalore and Delhi. It has qualified persons, quality of life, infrastructure and, above all, price compatibility.
Sunny Singh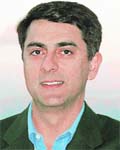 I co-founded Starting Point Partners, a seed-stage venture fund focused on technology start-ups. At present, I am also the holder of one US patent.

Vivek Mehra
Shree Ram, who has now shifted to New Jersey, spent the past 10 years in San Francisco. Sitting in his beautiful home, beaming with satisfaction, he talks about his career graph. "Indians have certainly succeeded in making a mark in the IT industry in the US, which is clearly a land of opportunities. What is remarkable about the US is that one does not face either red tape or corrupt practices. In just eight years we have scaled to a point that would have been unimaginable in India even in 24 years. The brain drain from India is not on account of youngsters chasing money but for the sheer pleasure of achieving your dreams — of proving yourself without any obstacles."
The three successful entrepreneurs feel that India needs to pay heed to the stiff competition from other countries. "Many countries are offering comparably much low prices than India for outsourcing. No doubt, there is a boom now, which is likely to stay for another five to six years. And the US will continue to outsource, because it certainly increases the profit margins. However, this very profitability is decreased if the work is got done from India. Countries like Bulgaria and Ukraine are willing to do the same work at a much less price. But we can still take pride in the fact that China is far behind India in the outsourcing share," reveals Bakshi.
Elaborating on the work done by Second Foundation, Shree Ram says, "Besides doing maintenance of software, we develop and support it. In our Chandigarh company, we employ either engineers or MCAs (Master's in computer application). They must have at least 10 years of experience in the concerned field. They are paid between Rs 5 lakh and Rs 20 lakh per annum. It is sad that many of them drive a hard bargain with us. And, once they get an appointment letter, they join other companies at higher salaries. Retention of employees is becoming more and more difficult. What they do not realise is that outsourcing will go to other countries faster than they can imagine."
Another pride of Chandigarh is Sunny Singh, who did mechanical engineering from PEC in1988. He too headed for Stanford on a scholarship to do Master's in industrial engineering with focus on 'finance and operations'. He finished the two-year course in one and a half years. Immediately, Sunny was picked up by the $ 50 billion-worth Oracle Corporation because of his outstanding academic record. Oracle is the second largest IT company in the world after Microsoft. By 1990, Sunny had become Group Vice-President of the company.
According to Sunny, Oracle is an extremely progressive company, which likes to share its profits with its entire team. "They give you stock option and share holding, as per your performance. I feel very comfortable and satisfied with my position." This bright and extremely cordial person says with conviction that Chandigarh is going to be the next destination for outsourcing after Bangalore and Delhi.
"Chandigarh has everything that is required for opening a company for outsourcing in India. It has qualified persons, quality of life, infrastructure and, above all, price compatibility. Bangalore and Delhi are not realistic in matter of the cost for outsourcing and lack quality of life. These places are also more expensive to live in than Chandigarh. At least, 50 US companies are already outsourcing from Chandigarh."
Look beyond IT professionals, and there's Atul Gupta, another bright boy from Chandigarh. A product of Government Model High School, Sector 10, he bagged the "Best Boy" award in 1991-92. He moved on to Indian Institute of Technology, New Delhi, to earn his Master's in chemical and biochemical engineering. Atul's designed a reactor for treatment of sewage which was both cost-effective and time-efficient as compared to conventional treatment plants.
This singular achievement brought to his doorstep a Rs 14.97 lakh project grant from the Government of India for further research. The usual red tape did not allow him to get this design patented and Atul soon left for the US in August 2000, where he got admission in the University of Maryland, Baltimore, to enhance his academic career in chemical and biochemical engineering. He distinguished himself and was awarded the distinction certificate with his name included in the Who's Who among students in American universities and colleges in 2001-02. At present, Atul is working on human genes at Raleigh, North Carolina.
Vivek Mehra brings over 15 years of experience as an entrepreneur and business and development manager in a number of network computing and systems companies. He has been an active "investor adviser" to start-ups in the areas of infrastructure software, networking, security, storage and wireless.
Prior to joining August Capital, an early stage venture capital company managing $750 million, Vivek co-founded Cobalt Networks in 1996. As Chief Technical Officer and Vice-President of Product Development, he pioneered the concept of server appliances. This enabled small businesses and individuals to quickly create cost-effective online presence. The company made a highly successful initial public offering (IPO) on the NASDAQ stock market, making it the third best opening-day gain in the history of NASDAQ. Its products are selling in more than 85 countries, winning numerous awards, including the Innovation of the Year Award by PC Computing Magazine.
Vivek joined Sun Microsystems after its $2 billion acquisition of Cobalt and served as Vice-President and General Manager of Cobalt Business Unit and as a member of Sun's Technical Architecture Counsel. In 2000, Vivek also co-founded Starting Point Partners, a seed-stage venture fund focused on technology start-ups. He did his graduation in electronics (1986) from Panjab University and Master's in computer engineering (1988) from Iowa State University. At present, he is also the holder of one US patent.
Looking at the successful forays of these Chandigarh lads into the IT world, it is heartening to note that the Chandigarh Administration and the Punjab Government have decided to develop Chandigarh and Mohali as IT and BPO hubs, and thereby open new 'windows'. The credit for this effort goes to N S Kalsi, Managing Director, Punjab Information and Communication Technology Corporation (Punjab InfoTech), and Vivek Attri, Joint Secretary-cum-Director Technical Education, Chandigarh.
Kalsi says that along with biotechnology and IT, IT-enabled services, BPO and communication technology are the key areas that will be covered under the state government's industrial policy. As IT destinations, both Chandigarh and Mohali will compliment each other in terms of infrastructure, connectivity, communications network, quality of life, education and entertainment and employment opportunities.
It is because of these facilitating factors that key IT players like Infosys, Quark, IDS, InfoTech, SEBIZ InfoTech, CDAC and Dell have arrived here. Quark City in Mohali will have a built-up space of 4 million sq. ft. In fact, over 50 US companies have BPOs in Mohali. "Punjab has taken various steps to provide broad-band connectivity and even set up the Software Technology Park with an earth station in Mohali and Patiala.
These earth stations are in the final stages of commissioning. Given the highest per capita income and a robust market, the state government plays a "facilitator" and there already exists a Venture Capital Fund of Rs 200 million for the IT sector, discloses Kalsi.
Attri, in turn, says that 2004 saw significant IT developments in Chandigarh. The three main components of the IT policy — e-governance, upgradation of human resources and creation of infrastructure — have been implemented.
The 11-acre Chandigarh Technology Park (CTP), near Kishangarh, is shaping up well. He asserts that now Chandigarh is being perceived less as a bureaucratic city and more as a centre of growth and knowledge. "The quality of life and the quality of human resources make it an extremely attractive destination for IT and BPO companies. The next few years should see immense gains for the city in the IT world."