Date with Destiny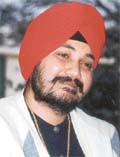 Daler Mehndi: Sardar of symphony
CALL it a confluence of the North and the South, or a fusion of classical and pop, but when Daler Mehndi and Hariharan come together for one album, they are bound to make 'Destiny'.
Destiny — the music album produced by Dnuo Music, features pop singer Mehndi from Punjab and Ghazal exponent Hariharan from the South for the first time. Interestingly, like previous albums of the two singers, the genre of this album is not pop or classical, but an "easygoing" soft musical.
"When I got the offer to do an album with Hariharan, I was a little surprised. I thought 'Me and Hari..What kind of album is it going to be?' But then I thought that I should try to do something different. So, I agreed to feature in it," said Mehndi.
Hariharan is quite thrilled to work with Mehndi in this album and feels that their team will work together in future also.
"Working with Mehndi was a brilliant experience. He is a very talented singer. Soon you may see us together in a new album, where I might be singing in Punjabi and Daler in a South Indian language," said Hariharan.
The album, which was showcased at a World Media Brief during IIFA awards at Amsterdam in June this year, was recorded in London and has contributions from world's renowned musicians, including Pandit Jasraj's nephew Dinesh Pandit, who composed the music and wrote the lyrics, along with well known lyricist Nida Fazli.
It has one solo by Mehndi, two solos by Hariharan, two solos by Richa Sharma, two duets by Hariharan and Mehndi, and one remix. While Phir Khayalon Mein by Mehndi is a sweet, romantic song, the duet by the two singers is a peppy one, and forces you to dance with the tune. Hope it changes the 'destiny' of all those associated with it. — ANI