Unmatchable
Qaiser Mohammad Ali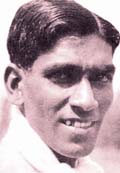 The legendary Dhyan Chand was a very selfless person
Dhyan Chand's 100th birth anniversary has been celebrated at a time when Indian hockey is desperately trying to raise itself from a whole lot of problems — inconsistent performance by national teams, far-from-fair selection of squads, a disorganised national federation and perpetual bickering among players and the officialdom.
Amid these troubled times, the archival images — still and moving — of the mercurial wizard who ruled the roost in the 1920s and 1930s give most welcome relief and comfort.
Dhyan Chand was part of three gold medal-winning Indian teams at the Olympics — in Amsterdam (1928), Los Angeles (1932) and Berlin (1936), where he was captain.
Even in his 50s, Dhyan Chand would shame Indian goalkeepers in practice by dropping the ball and then on the half volley driving it into the corner of the net. Not once but 10 times out of 10.

On the 1947 East African tour, he put through a wondrous ball to K. D. Singh 'Babu', then turned his back and walked away. When Babu later asked the reason for this odd behaviour, he was told, "If you could not get a goal from that, you did not deserve to be on my team."

In 1935, cricket great Don Bradman and the hockey wizard met in Australia, and it is a measure of this man's innocence that Dhyan Chand writes, "The picture of that meeting I will cherish all my life." Did Bradman know who he had met?

When he fell ill, liver cancer as it turned out, and came to Delhi's All-India Institute of Medical Sciences, they dumped him in the general ward. A journalist's article eventually got him moved to a special room.

In Jhansi his funeral was held not on the ghat but on the ground he played. Players came, but it seemed a little too late. It made it hard to forget the first few words of his autobiography 'Goal': "You are doubtless aware that I am a common man."
— Rohit Brijnath
His fame notwithstanding, Dhyan Chand, a centre forward, was an innately selfless person. If he felt either of the two flanks was in a better position to score, he would flick the ball to the well-placed player instantly.
For two decades, until he bid goodbye to international hockey in 1948, Dhyan Chand was virtually synonymous with hockey, playing numerous matches and scoring hundreds of goals.
Born in Allahabad, on August 29, 1905, he was named Dhyan Singh. One of his two brothers was Roop Singh, who also went on to become a prolific hockey forward and played alongside his illustrious brother at the Olympics.
As Dhyan displayed his abundant hockey skills, Pankaj Gupta, his first coach, predicted he would one day shine like a "chand" (moon).
"That is how father got his surname 'Chand'," said his son Ashok Kumar, himself an Olympian who starred in India's 1975 World Cup triumph.
Dhyan Chand took to hockey in his teens and quickly came to acquire excellent dribbling skills and an uncanny knack for scoring goals, leaving unbelievable statistics in the wake.
At the 1928 Olympics, he netted twice in India's 3-0 win over the Netherlands in the final. At the 1932 Olympics, when India famously drubbed the US 24-1, his contribution was eight goals. The same year, he netted a whopping 133 goals out of India's 338.
But Dhyan Chand was probably at his zenith during the Berlin Olympics. The Germans were so scared of him that they resorted to rough play in the final, leading to Dhyan Chand losing a tooth. But the valiant player returned to the field after first aid. When the match ended, his contribution in India's 8-1 win was six goals.
Even after he turned 42, Dhyan Chand continued to score virtually at will, as he pumped in 61 goals to help India win all their 22 matches in East Africa in 1947-48. It was then that he stopped playing international hockey.
After his playing days, he earned a diploma in coaching from the National Institute of Sports, Patiala. But he was not as successful as a coach; he found it difficult to explain things that came to him so naturally as a player.
In 1956, the Indian Government conferred on him the Padma Bhushan — he was never presented the Arjuna Award though — and released a postage stamp on December 3, 1980, exactly a year after he died in hospital. — IANS