MALAYALAM Review
His Mission
A.J. Philip
Swami Ranganathananda
by D. Vijayamohan
D.C. Books, Kottayam, Pages 143, Rs 90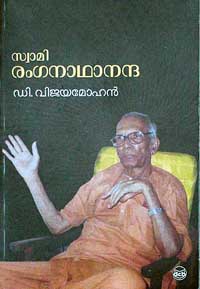 IT is an irony that the first biography of Swami Ranganathananda, easily the tallest interpreter of Vedanta after Swami Vivekananda and master of many languages, should come out in Malayalam. Even more ironical is that the author, who is the Bureau Chief of the Malayala Manorama in New Delhi, had to wait for 12 years before the manuscript could be sent to the publisher.
This was because of Swamiji's injunction that the biography should come out only after his samadhi. That fateful day came on April 25 this year plunging his disciples and admirers the world over in sorrow.
In any case, chronicling the events of Swamiji's life was an uphill task as, in the true traditions of a sanyasi, he was reticent about his own accomplishments. For Swamiji, renunciation was a way of life; Bharat Ratna and Padma Vibhushan were just two titles he politely declined to accept because he did not believe in personal glory.
Vijayamohan had gleaned most of his information from Swamiji himself through long, taped interviews at his Hyderabad ashram, which Swamiji subsequently vetted. This has lent the biography authenticity and has given the author a sense of fulfilment. While adopting the reader-friendly anecdotal form of narration, the author has also taken care to provide an overview of Swamiji's philosophical concerns and how he links modern science with Vedanta.
It was Swamiji's innate ability to explain in lucid language even the most complex thoughts and ideas that attracted listeners like former President Dr S. Radhakrishnan to his discourses. He felt at home in the company of nuclear scientists as he would among the religiously trained. A voracious reader, he could even give a tip or two on Jinnah's "secularism" to BJP chief L.K. Advani, which, however, landed the latter in trouble.
As providence would have it, the day Swamiji was born at Trikkur in Kerala — December 15, 1908 – coincided with the birthday of Sarada Devi, wife of Ramakrishna Paramhansa, and Swami Vivekananda. Another coincidence – his parents and elders affectionately called him "Kutti Sankara". He rose to become head of the Ramakrishna Mission and became a great exponent of advaita, propounded by Adi Sankara, who was born at Kaladi, not far from Trikkur.
A precocious child, Kutti Sankara's decision to choose a monastic life, of course, of his own volition shocked his parents who doted on him. He ran away from home to pursue a life of service and studies that took him to the far corners of the world where his listeners were reminded of the mesmerising Chicago speech of Swami Vivekananda that shook the West.
He was not an ivory-tower preacher. He believed that in the world of religion, nothing mattered more than the brotherhood of man. He found contentment in wiping the tears away from the faces of the people. The chapter on his escape from Rangoon in the wake of the Second World War, a la the Exodus, is a pen-portrait of his fortitude, leadership and commitment.
Swamiji had to wind up yet another Mission Centre when following Partition, he found it impossible to carry on his work in Karachi. Wherever he went, people flocked to him. Not many know that it was at a programme Swamiji organised that Jawaharlal Nehru said of M.S. Subbalakshmi, "Who am I in front of this queen of music? A mere Prime Minister".
Many people in the Capital still have fond memories of the long, captivating discourses he made, sitting cross-legged, without any aid of notes. His mother had once forbidden him from using bad words: "Son, you should not utter such words, for, it is Goddess Saraswati, who resides on your tongue". He was indeed Saraswati-tongued.
For all its readability, Vijayamohan's attempt is just a primer; it can only whet the appetite of a serious reader. As playwright, media expert and student of Vedanta, Prof Omcherri, who conceived this project, says in his introduction, Swami Ranganathananda will, hopefully, be the footpath that leads to a definitive biography of Swamiji. Incumbent upon the publishers is immediate translation of the book into all Indian languages.