The Rajni phenomenon
His career knows no full stops. In the 30th year of his stellar reign, Rajnikanth has delivered the biggest ever-hit in Tamil cinema history, reports Saibal Chatterjee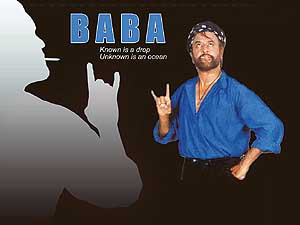 The box office debacle of Baba was a rare setback in the actor's phenomenal acting career
Stars like Rajnikanth do not fade away. They seem to get brighter with age. In his 30th year in business, the Tamil movie industry's greatest and most enduring crowd-puller has delivered a mega hit that is infinitely bigger than anything ever seen before.
No other Indian movie star, not even the redoubtable Amitabh Bachchan, another showbiz supernova, can match this 56-year-old man's ability to single-handedly spearhead box office money-spinners.
Rajnikanth's latest film, Chandramukhi, released four months ago, is still running to packed houses in many parts of Tamil Nadu and elsewhere. Playing a nattily attired US-returned psychiatrist on a visit to a friend's rural palace, the star looks younger and sprightlier than he has ever done in the past decade.
The gross earning from Chandramukhi has already topped the Rs 50-crore mark and the figure is expected to rise further as theatrical, DVD and satellite TV rights bring in big bucks from Malaysia, the UAE and the US.
The only real rival that Rajnikanth currently has is Rajnikanth himself. Chandramukhi, a reworking of a 1993 Malayalam hit Manichitrathazhu, has become Tamil filmdom's biggest ever grosser by outstripping yet another Rajnikanth vehicle, Padayappa (1999).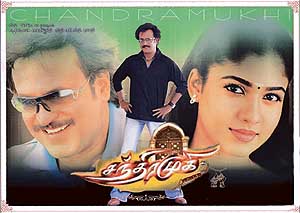 Rajnikanth's Chandramukhi is running to packed houses in many parts of Tamil Nadu
The success of Chandramukhi, coming three years after the box office debacle of Baba, written and produced by the star, has put Rajnikanth back where he belongs. It has silenced those who had begun to pen the obituary of his phenomenal acting career.
It is only in the fitness of things that Chandramukhi happens to be the 50th film from the Sivaji Productions stable. The legendary Sivaji Ganesan, an actor who inspired Rajnikanth in his early years, launched the company. To take the linkage further, Rajnikanth has now been penciled in for a film titled Sivaji.
To be produced by AVM and directed by Shankar, the upcoming film has been named after the late superstar who began his illustrious career in the early 1950s with Parasakthi, a film that the famed Chennai-based studio funded. Incidentally, the real name of Rajnikanth is Shivaji Rao Gaekwad.
Pretty much in the manner of the all-conquering Maratha king of the same name, Rajnikanth's triumphs have been as frequent as they have been miraculous.
Born in a lower middle class Marathi-speaking family in Bangalore, in his early twenties he worked as a bus conductor for the Karnataka Road Transport Corporation.
Rajnikanth was at the film institute in Chennai when K. Balachander, known for his uncanny knack to spot talent, offered him a role in Apoorva Raagangal (1975). It was a small, insignificant part with a negative tinge to it. Moviegoers noticed nothing exceptional in the young actor, but Balachander saw the spark in his eyes and sensed the fire in his belly.
He gave Rajnikanth a far longer role in Mundru Mudichi (1976). Kamalahasan, the lead actor of Apoorva Raagangal, was killed off in the first half of this film — and he grabbed the opportunity with both hands.
Playing an amoral character who does his friend to death because of a girl that they both fall in love with, Rajnikanth demonstrated for the first time one of the mannerisms that was to become his onscreen trademark: an inimitable way of lighting a cigarette. He placed the cigarette on his left palm, patted it with a flourish, and sent the stick flying to his lips. The film was a lukewarm box office performer but there was no way moviegoers could miss the flamboyance of this cocky young actor.
As his rapid-fire dialogue delivery, stylish swagger and scornful laughter caught on, Rajnikanth landed a series of villainous roles in hugely successful films. He was a baddie people loved to hate. In the 1970s, he played a sadistic husband in Avargal, a lecherous village rowdy in 16 Vayadhinile and an unscrupulous man who films his wife for a pornographic film in Gayathri, among other notable characters.
The subsequent birth of his anti-hero persona, which marked the second phase of his eventful career en route to becoming a blockbuster powerhouse without peer, was just a step away. If Balachander set him up for movie immortality, S.P. Muthuraman helped him break away from his mannerisms in a series of melodramas, including Bhuvana Oru Kelvikuri and Netrikkan.
As Rajnikanth's stock rose during a period that also saw him foray into the Hindi movie industry in the 1980s with films like Andha Kanoon, John Jaani Janardhan, Geraftaar and Chaalbaaz, among others, he began to feel the pressure of being the most bankable star of Tamil cinema. Crores of rupees rode on him every time he signed a film. At one point, the spiritually inclined actor threatened to walk away from it all, but was compelled by his admirers and industry leaders to rescind his decision.
The most productive phase of his career was kicked off by K. Balaji's Billa (1980). The film, which had him playing a village bumpkin posing as a mafia don, anticipated the series of super successes that he delivered in the 1990s — Annamalai, Ejaman, Muthu, Badshah, Arunachalam and Padayappa.
Such was Rajnikanth's sway over the populace of Tamil Nadu at this point that one open exhortation from him lifted the electoral scales against J.Jayalalitha's AIADMK.
This gave rise to speculation that Rajnikanth was preparing for a political career. But five years on, he continues to act and smash box office records.