Wednesday, September 7, 2005
Career in sports a different BALL GAME
Usha Albuquerque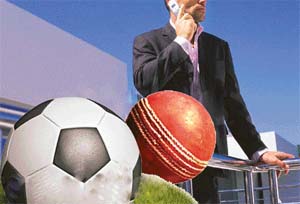 Sania Mirza having made it to the fourth round of the US Open is inspiration enough for many young tennis hopefuls. Finally, Indian sports has a silver lining. While Major Rathore's medal at the Olympics did inspire the youth towards sports, it is a string of wins like those of Sania's in tennis, Arjun Atwal and Jyoti Randhawa in golf, and the renewed vigour of the hockey team that will bring talented young sports aspirants on to the playing fields. Indian sports has truly come of age. With more and more money coming into sports, and the wide media attention and interest, those with potential and talent can now consider a professional sporting career. Awards, rankings, prize money, sponsorships, scholarships, contracts, endorsements, revenue from TV telecasts have all boosted the prospects for
careers in sport.
Of course, there are a limited number of sports that provide the financial support that enables talented players to earn a living. But for those with intrinsic talent, there are opportunities to make it to the top.
A field wide open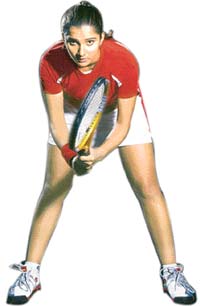 So, can you make a career in sports? Yes, if you have the talent and are willing to put in a great deal of effort and dedication. Those wanting to become professional sportspersons have to start young,
Sania Mirza started tennis at the age of 6, when the tennis racquet was almost as big as she was. Barely a month into tennis classes, Sania 's coach spotted her talent and alerted her parents. Once she got into the tournament circuit, it was tennis and more tennis all the way. " I've had to struggle, and to slog. For years, I barely slept so as not to miss practise. I never went for parties like my friends did. I never got to eat junk food," says Sania Mirza, whose hard work has paid off. It wasn't much more different for Vijay Amritraj, who was an asthmatic child. To build up his stamina and lung power, his mother introduced him to sports and tennis, and a strict regimen of four eggs and three laps a day around the stadium in Chennai.
Training talk
For a career in sports it is necessary to make it to the national level. Today, there are several academies and institutes that select and train talent for practically every sport. Privately run academies such as the Britannia Amritraj Tennis Academy, which launched Leander Paes, and the Krishnan Tennis Academy in Chennai, set up by Ramanathan Krishnan and his son Ramesh have encouraged and promoted many promising tennis players. In Delhi, the Dharam Hinduja Tennis Acadmy has also been instrumental in sending trainees abroad for international tournaments and handling all the requirements of young sportsmen. MRF has been promoting and training cricketers through its Pace Foundation in Chennai. The Tata Football Academy, Kolkata, trains young soccer players, many of whom are now in the big league teams of Mohan Bagan and East Bengal. Some state associations have also instituted special academies, which have spread to others cities like Chandigarh and Pune too.
Sponsored sports
But all this training does not come cheap. Besides the fees to be paid, these associations bring out qualified foreign trainers to mould promising youngsters to international levels. Sports equipment too is expensive — tennis rackets cost Rs 6,000 - 9,000 each, golf balls Rs 150 each.. In some cases a few select sportsmen are provided with professional coaching and all their costs, including board and lodging are taken care of by the sponsor, but only after they have reached a national level. In most cases parents have shelled out these expenses in the hope that their investment in the child will pay over a period of time.
Once the child reaches the national level, it is easier to find sponsors. Sports such as cricket and tennis are able to attract private sponsorships, and sizeable amounts of prize money. Private sponsorships of golf, billiards and snooker, yachting, and equestrian events have also improved the chances for sports persons in this field.
Air-India sponsors hockey players at the National Hockey Academy in Delhi, while companies like JCT not only sponsor players but have their own teams too.. Private sponsorships of hockey, football, golf, billiards and snooker, yachting, and equestrian events have also improved the chances for sports persons in these fields. Leading public sector companies like Steel Authority of India encourages talent from the rural and tribal areas by offering scholarships in well-equipped academies, while the Punjab and Sind Bank has trained a top team of hockey players.
Even sailing today gets sponsorship. Godfrey Philips, the makers of Four Square cigarettes have sponsored individuals and sailing events and helped popularise the sport. As a result there are over 41 sailing clubs under the Yatching Association of India, and the country has participated and hosted several international sailing events.
Moreover many public sector companies provide jobs to enable talented sportpersons to continue in the field. There may never have been a PT Usha if it wasn't for the Railways where she was given a job as an equiry-cum-reservation clerk in the early years, and provided special training and financial support . In fact, it is the professional inputs and an all-encompassing support system provided by companies like the Railways, Indian Airlines, Punjab and Sind Bank, Steel Authority of India, and so on that has enabled sports persons to achieve better performances and earn their livelihood from a career in sports. Indian Airlines and the Railways have Sports Control Boards that sanction funds for scholarships, training programmes and jobs for sportspersons.
However, it is the Sports Authority of India, a national organisation financed by the Government of India which has been responsible for promotion of sports in the country. Many of the country's leading sports persons like Bhaichand Bhutia, and Limba Ram are products of the SAI system. Of the 75 sportspersons competing at the Athens Olympics, 39 have been nutured under one of the SAI schemes. Seven of the 11 in the hockey team including the captain Dilip Thirkey, and many of the archers and boxers have been promoted by SAI. In fact more than 10,000 youngsters are currently being trained in the various sports through SAI.
Talent hunts
Over the years the Sports Authority of India (SAI) has initiated various schemes to spot latent talent and provide the correct facilities for nurturing state, national and international level sportspersons.
The most basic scheme is the National Sports Talent Contest (NSTC) Scheme. The SAI has identified ten Olympic disciplines — athletics, badminton, basketball, gymnastics, hockey, swimming, table tennis, football, volleyball and wrestling — and school children between the ages of 9-12 years endowed with natural motor qualities and physical growth, showing any special talent in any of these ten are selected for special training.
For older children in the age group 16-20 years, there is the Sports Hostel Scheme. Talented children spotted through various state/national championships organised by the Sports Federations are selected for the SAI Hostel Scheme.
Here they are provided coaching, training and nutritional support to enable them to compete effectively in state and national level competitive events.
Scholarships & schemes
SAI has several schemes for a vareity of sports. Recently, SAI has also set up six Centres of Excellence at Banglaore, Kolkata, Lucknow, Delhi, Gandhinagar and Imphal, where sportspersons who have qualified at the national level up to the 6th position, are trained and promoted. Triple jumper Anju George and sprinter Binoo have been trained at these centres.
Sports management
A specialist area becoming increasingly popular today is the area of sports management. Like Jerry McGuire you can represent, promote and manage the career of a sportsman. Today, practically all successful and well-known players of sport have their own personal managers or agents who keep a track of their clients' schedules, look after activities such as their career progression, business promotion and even media and public relations. International companies like IMG and World Tel Sports are some of the international names in this arena — and you don't need to be a sportsman to join them. If your career in sports has been cut short, or you have a passion for sport but not national level talent, an MBA can certainly take you places. Clubs, hotels and resorts that have sports facilities and leisure centers, also employ sport managers who have a knowledge, interest and expertise in sports. Many private and government sponsored sports institutions employ qualified officials to plan and manage sports activities and events.
Coaching clues
Trained coaches are in demand at all the training centres set up by SAI and by state and central sports bodies. Coaches can also find openings in sports clubs, schools and colleges and as in-house coaches for corporate sports teams. Sports persons on retiring from active play can also look forward to satisfying jobs in assignments such as umpires and referees. For this, appointments or certification by recognised state or national bodies is required.
For the training of coaches, there is also the Diploma in Coaching in different sports disciplines for graduates proficient in some sports at national or international level, and the Bachelor in Physical Education, a three-year course for school leavers. The National Institute of Sports, Patiala, also offers R&D programmes in sports science, and sports medicine.
For those wanting to undergo a formal education in sports, the Laxmibai National College of Physical Education at Gwalior and Thiruvanthapuram, and the Indira Gandhi Institute of Physical Education and Sports Sciences, University of Delhi, conduct Bachelor's and Master's degree courses in physical education, sports medicine and research in sports,. Other institutes that impart sports education include, Panjab University, Chandigarh, Gujarat University, Ahmedabad, Banglaore University, University of Calcutta, University of Delhi and Benares Hindu University.
Write way
Those with communicating skills like the now popular Navjot Singh Siddhu and Ravi Shastri, can take on sports commentating, or sports journalism, working with television, newspapers or magazines that have a sports column or programme. Sports channel such as Star Sports, ESPN and DD Sports have commentators, presenters, programme producers, directors and presenters to prepare and present sports programmes. Harsha Bogle may not have got to national level in sports, but his passion for sports and excellent articulation has certainly helped him reach there in sports television.
Sports photographers are also much in demand, particularly when major sports events are held.
So, if you are talented in any sport and motivated enough to make a career of it, this is the time to go for the high jump.
The writer is a noted career expert