M A I N N E W S
Petrol dearer by Rs 3
Diesel to cost Rs 2 more; LPG spared
Tribune News Service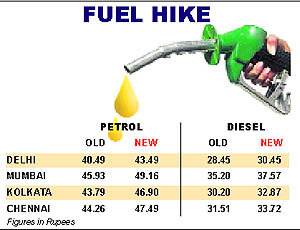 New Delhi, September 6
Ending speculation, the government today announced a massive hike in petrol and diesel prices by Rs 3 and Rs 2 per litre, respectively, from midnight across the country, thus putting an additional burden of Rs 5,000 crore on consumers during the remaining months of current fiscal. However, it has kept LPG and kerosene prices untouched under the pressure of the Left and allied parties.
After marathon meetings of the Left leaders with the Prime Minister Manmohan Singh yesterday, the Cabinet today gave a go-ahead to the hike, claiming that consumers would be marginally burdened. The government and the oil industry would contribute significantly to compensate the oil marketing companies facing a threat of bankruptcy due to an unprecedented hike in international crude oil prices.
Talking to reporters after the meeting, Petroleum Minister Mani Shankar Aiyar said, "The Cabinet has decided to increase petrol and diesel prices by Rs 3 and Rs 2 per litre with effect from midnight while there will be no increase in LPG and kerosene prices."
Railway Minister and RJD President Lalu Prasad Yadav was dissatisfied with the decision, stating that the hike would adversely affect the party's prospects in the Bihar Assembly elections.
Justifying the hike, Petroleum Secretary S.C. Tripathi said: "
To meet the estimated under-recovery of around Rs 40,000 crore during the current fiscal, the consumers will share a burden of Rs 5,000 crore. Meanwhile, the government will contribute around Rs 10,000 crore through bonds and upstream oil companies like the ONGC and GAIL will give trade discounts of around Rs 14,000 crore, to the oil marketing companies in addition to trade discounts by the refineries worth Rs 5000 crore including Rs 750 crore by the Reliance Industry."
The Finance Ministry had opposed any duty cut on oil products projecting Rs 3,628 crore lesser revenue realisation from customs and excise duties than the projected Rs 64,738 crore target for 2005-06.
Mr Tripathi said the ministry would issue bonds in the next few days after consultation with the RBI. It would enable the oil companies, including Indian Oil, Bharat Petroleum, Hindustan Petroleum and IBP, to meet the current capital requirements, while the government would adjust it as a subsidy for the LPG and kerosene supplied below marketing price.
Commenting on the impact of price revision, the Petroleum Secretary said the IOCL, HPCL and BPCL would return to black from the next quarter. The IOC CMD, Mr S. Behuria, said the price hike along with oil bonds that could be traded in the market, would improve the liquidity position of the companies.
Mr Tripathi, however, maintained that the government would announce a new scheme on October 1 to streamline the kerosene distribution through the public distribution network.