ON THE APPLE TRAIL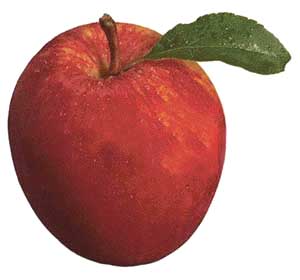 Brought to Himachal Pradesh by Samuel Evans Stokes, an American who later became Satyanand, apple transformed the economy of this hill state. A.J. Philip makes many a discovery in his search for apple orchards.
I GREW up hearing about the apple that Eve had a bite of before giving it to Adam, though the Bible does not mention any apple at all. All it says is "the fruit of the tree which is in the midst of the garden".
At school, I heard about Isaac Newton, who discovered the law of motion when the fruit fell on his head while he was sitting in his mother's apple orchard at Woolsthorpe in 1666. I, too, wished there was an orchard in my village so that an apple could fall on me and I could become another Newton.
The closest I came to the apple was when I heard my uncle likening the girl he was betrothed to "an apple". When finally the two-legged "apple" walked into our life, I was astounded. If this was the kind of apple that had fallen on Newton, he would not have survived the impact, I thought.
Since I did not learn my alphabet the "A-for-Apple way", I did not even see a picture of the fruit, till much later. In the village school I attended, some of my classmates did not have even a piece of cloth to cover their nakedness. They used a spathe of the areca palm for the purpose.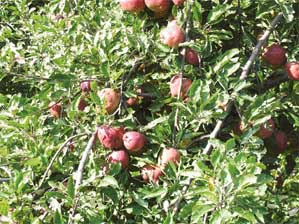 Later, as a student of literature, I learnt about the golden apple that Discord, who attended uninvited a marriage where all gods and goddesses were present, threw on the table causing much discord and eventually the fall of Troy.
At this point of time, it is difficult to recall the first time I saw an apple. Possibly, I must have left the village for good when I first had a bite of apple, which I thought was the king of fruits.
Though I no longer attach any kingliness to apple, it still fascinates me. One of the reasons why I found Asha Sharma's biography of Samuel Stokes, An American in Khadi (Penguin), captivating is because it is the story of the Apple Man.
Stokes belonged to the family that owned the Otis Elevator Company. He came to India in 1904 to preach the Gospel, got attracted to Mahatma Gandhi, took part in the freedom struggle, had a stint in jail— the first American to do so—became a hermit, married a Himachali Christian, reared a large family and ultimately embraced Hinduism adopting the name Satyanand.
Stokes has many firsts to his credit. It was he who first found that the soil and climate of Himachal Pradesh were good for apple cultivation. He brought saplings of the Golden Delicious variety from the US and planted them in a large tract of land he purchased at Kotgarh.
He encouraged "fellow villagers" to plant the saplings, which he gave them free of cost. Initially, they were reluctant to take to apple cultivation because the trees took several years to give crop. In the end, Stoke succeeded. With the apple came prosperity. Today, the apple business is worth Rs 2000 crore.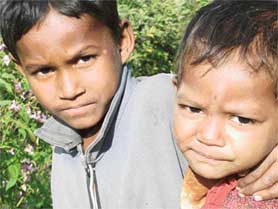 LOST LABOUR: These children work at an orchard but get no apples to eat. — Photos by the writer
Apple cultivation is now spread all over the state. I always longed to see an orchard. A couple of times when I visited Shimla, my hosts advised me to visit the state during the apple "season". It was news to me that the apple tree, like the mango tree, gave crop only once a year. Then how did we get apples round the year?
Unlike many other fruits, apples can be preserved under refrigerated conditions. But connoisseurs of apple know that once its crunchiness is gone, it is like salt that has lost savour.
It would be heavenly to pluck an apple and eat it, I thought as we set out for Chail. This small town, once the retreat of the Maharaja of Patiala, is not exactly a part of the state's apple belt. It has the world's highest (?) cricket field and a priceless hotel that exudes old-world charm.
We thought Chail could be an excellent base camp to visit some apple orchards until the friendly Palace Hotel staff told us, long after we had checked in, that apple orchards were closer to Shimla than to Chail.
There was no point in regretting. The sun was bright and the breeze was cool as we left for Koti, a small town on the meandering Chail-Shimla road. The sights were breathtaking. We were virtually transported back to our train journey from Cologne to Milan through much of Switzerland.
We were not wide of the mark as we soon stumbled across a new resort selling itself as "nestling in India's Switzerland". There was nothing apple-like about the road, which was pot-holed and bumpy. But where were the orchards?
As we looked for a guide, we suddenly saw two young men climbing up to the road with wooden crates on their heads. In great expectation, we stopped there only to learn from the two that what they carried were tomatoes, plucked fresh from their own gardens. "Go a little further on the road and you will find on the left side apple orchards", they advised us.
Just two turns later, two horsemen waved us to stop. "Oh, you want to see apple orchards. It is three km from here. You can't go there in your car. We will take you on our horses at Rs 150 per person". They appeared amenable to bargaining.
We would have settled for the horse ride but for the information I elicited from them that there were no apples in the orchard there. "The plucking is over. If you are interested, we can sell you some at Rs 20 a kg".
They had a small pile of apples, all deformed and, therefore, rejected. They were not worth a second look. We decided to move on in search of apple trees.
On the way, we passed through Koti, which produces huge quantities of vegetables. Hundreds of sacks of cauliflower were stacked on both sides of the road while a truck was getting loaded. In front of the well-stocked vegetable mandi in the heart of the town, I saw a small vegetable vendor selling his wares. "Who sells coal in Newcastle?" I wondered.
"There is no apple orchard along this road until you cross Kufri" said a vegetable producer. Kufri is the place where the "well-wheeled" of Chandigarh rush to see snowfall every year. But at this time Kufri wore a deserted look. There were several horses and yaks to take the few tourists around the picturesque place, once "the abode of the snow leopard".
A horseman sprang up to take us to an apple orchard at Rs 250 a person. His demeanour suggested that he wanted to take us for a ride. We did not fall for his temptation.
Suddenly, I remembered the apple orchard the driver had shown me when I had passed through that area a year and a half ago. A few turns later, we reached Kufri town. From the road we could see below an apple orchard. Before it registered on the driver that he should stop, we had travelled about 500 metres.
As he searched for a place to park the car, I found a footpath to reach the orchard. Two women, sitting in the shade and picking lice, seemed to have been taken aback when I asked them about who owned the orchard. "It belongs to the hotel owner there", one of them said, pointing to a hotel from there.
The trees were all full of apples. There were different varieties of apples; some red, some crimson, some yellow. As I took close-up pictures of the trees, an emaciated boy who carried his younger sister on his hip, suddenly appeared there. She had blood-spouting sores on her face. He was too young to know that I was photographing.
He told me that his name was Sanu and his sister's Manu or something like that. His mother had gone to work leaving the little child with him. A child looking after another child!
He lived virtually under the apple trees, though he did not know the English name of the fruit. "Do you get apples to eat?" I asked him. "No, I can't pluck the apples. This does not belong to us. We only work here".
All the time, it was my camera that attracted him. "What is this?" he asked me innocently. "It is a camera with which photographs are taken". Though he was a little scared when I clicked him, he was happy to see his photograph on the digital camera monitor.
As I chatted with the boy, a hefty young man noticed me from atop the hill. "Hey, what are you doing there? This is a private orchard. You can't go there. Come up, come up", he shouted at me.
"Who is that man?" Sanu told me that he was the "owner" of the orchard. For once, I realised why, despite living virtually under the apple trees, Sanu did not get to eat apples.
His image haunted me as I climbed back to return to my car and to Chail. It was indeed difficult to believe that here was a child growing up under an apple tree, yet he could not eat the fruit! But, then, life is stranger than fiction.