Happy to be kicking
Kickboxing is finding favour with the fitness conscious, especially women, for it can double up as a self-defence technique, says Ritusmita Biswas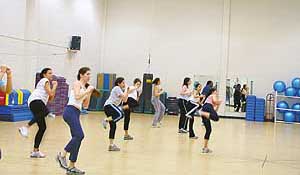 Kickboxing combines aerobics and cardio-vascular activity with self-defence tactics
Do you want to stay fighting fit? Are you looking for a sport that is energising yet trendy? If yes then kickboxing could be the prefect solution for you. And donít think it is confined only to Thailand, its place of origin. Itís now fast gaining ground as a workout for fitness fiends all over the world.
Fitness trainers agree that kickboxing is an explosive and challenging programme that utilises martial arts and boxing techniques, combined with roping and polymetric movements. Kickboxing helps one to work on oneís core muscles and provides relief from stress.
Kickboxing has been influenced by Muay Thai and other martial arts, including karate and boxing. Full-contact karate first surfaced as American kickboxing in January, 1970, when Joe Lewis (known as the Father of American Kickboxing) ó trained by Bruce Lee ó staged the first contact bout and became the first heavyweight champion, knocking out Greg Baines.
"Itís essentially a happening workout. Vigorous in nature, it helps you burn those extra calories and makes you look and feel young," says 47-year-old Sonal Kalra, mother of three grown-up children, who has been practising kickboxing for the last three years.
Agrees Aditi D Basu, a journalist working with a leading national daily in Mumbai, "Itís an excellent workout that has music, excitement and energy. It combines aerobics, cardio-vascular and body toning with self-defence tactics that could be used to protect yourself as well." She says that she has tried many fitness regimes but none of them proved to be as invigorating as this regimen.
Fitness is not the only reason why more and more women are taking to kickboxing. It is a type of martial exercise that can be used by women to sort out eve-teasers. Tollywood actress Arunima Ghosh, who has recently enrolled in a kickboxing class, believes that apart from "burning those extra calories" kickboxing arms you with techniques that can be effectively utilised in crisis situations.
"This is one of the major reasons why I enrolled my 13-year-old daughter Sneha in this class. Being a working mother I am not always able to escort my daughter and she often returns from her tuitions quite late in the evening," says Paromita Ghosh, mother of Sneha.
Delhi-based fitness trainer Kiran Sawhney reiterates that kickboxing definitely is the sport of the millennium. "Itís a great workout. Itís a lot of fun and itís satisfying to know that you can defend yourself. Kickboxing is a lot more interesting than traditional workouts like lifting weights or running on a treadmill. You actually learn and develop a skill while your fitness level improves. Itís rewarding and motivating," she adds.
What is interesting about the kickboxing classes is that most of them focus on a real-life scenario where a woman is supposed to use her self-defence skills to handle unpleasant situations. "In todayís world itís essential for women to equip themselves with certain self-defence techniques," says Dilip Rungta, who is a personal fitness trainer for women in Kolkata and is attached with some of the prominent gyms in the city.
Until a few years ago, boxing was pretty much a guy thing. But not any more. And most of the fitness trainers agree that in certain respects women are better fighters than men. "When it comes to learning fighting techniques, women have an advantage. Men may have more upper-body strength but women tend to pick things up faster because theyíre generally more coordinated and flexible. They donít rely on brute force," says Sawhney.
However, not all fitness experts recommend this activity for women. A trainer in a Kolkata-based gym, on condition of anonymity, points out that kickboxing is not an ideal sport for adolescent girls. "Itís a very rough and tough form of fitness regime. For beginners itís a strict no no. And anyway it needs to be practised under tight supervision or one may hurt oneself," he says. ó TWF