Stamped Impressions
Notes from a teacher
Reeta Sharma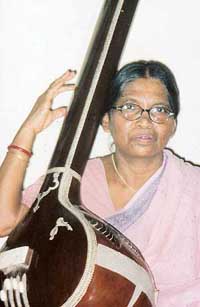 Shanti Das: Music is her belief
It was sheer coincidence that Shanti Das came visiting on Teacher's Day. It was one of her usual visits and we chatted as always. But this time during our conversation, I realised here was an ideal teacher before me.
Shanti has been teaching Rabindra Sangeet, Indian classical music and bhajans to youngsters in Chandigarh for the past 35 years. She has been a disciple of various gurus, including her father, Shri Ramdhan Verma. She learnt Bangla lok geet from Nirmalang Chowdhary in Kolkata and Rabindra Sangeet from Neelima Banerjee, well-known singer Hemant Kumar's sister.
When she came to Chandigarh, a new world of music opened before her as she was drawn towards ghazal gayaki. Shanti knew that she would not only have to shed her typical Bengali diction but also learn to pronounce Urdu words. She realised that unless she practised Indian classical music rigorously under a learned guru, she would not be able to do justice to ghazal gayaki.
Over a long period, I have seen how this unassuming woman has been passionate about learning music and has allowed nothing to come in its way. Even when people laughed at her Urdu pronunciation, she did not lose heart. For months on end, she practised the right pronunciation under experts of Urdu language till she perfected her diction.
Shanti took training in Indian classical vocal from Lachman Das Sindu, Satya Ghai, and Savita Dey. Finally, she approached Ustad Sarfaraz Hussein Khan in Delhi. Did she shift to the Capital to learn music from him? No, she did not. She used to go to him twice a month even when she could hardly afford those trips. A mother of two, Shanti and her husband live on a shoestring budget. Her reward, however, came when she was selected by All India Radio to sing ghazals, bhajans and Rabindra Sangeet.
All this while, Shanti was a student as well as a teacher of music. She taught at a private school for a paltry sum. However, her house was always full of students to whom she imparted the basics of Indian classical vocal and Rabindra Sangeet. Was she taking tuitions to add to her income? No, money was the last thing on her mind. She accepted whatever people gave her.
She yearned to reach out to students who were inclined towards music. If she ever came across one, she went out of her way to cajole them to learn music and if such a student stopped learning music either because the parents were not keen or the student had lost interest, she went to great lengths to find out the reason and offer solutions, which included not charging the fee or spending hours together to convince the parents.
Even though Shanti is a skilled vocalist, she could never get a regular job in any institution because she did not have a B.Ed degree. Now, when she comes across students who want to leave everything just to learn music, she tells them to take a formal degree that will make them employable. A protective teacher, she ensures that her students do not live in a world of illusion.
She lives and breathes music 24 hours a day and teaching is her religion. Shanti might get peanuts for teaching but she is always full of their stories and dreams of their brilliant future. Her face beams with pride, when she says, "Re, baba re! Woh mera Naveen hai na, abhi aath saal ka hai. Sur aisa lagata hai, jesse sangeet ke pet mein se paida hua ho."
Take the case of Vandana (not her real name), who belongs to a poor family. This immensely talented girl had to quit music because of her poverty. Shanti made her resume the music lessons by not charging any fee. Today, Vandana is studying in a local college and making a name for herself in the field of music.
Is Shanti Das a well-off lady? Well, she runs her home on her husband's pension, which is Rs 6,500 and her own monthly income of Rs 2,000 that comes from tuitions. Does she grumble about her life? Shanti stays immersed in music every moment of her life and does not have even a moment to pause, brood or feel low.