How we mind our language
In recent decades, English has absorbed the colourful nuances of the country
Ranjita Biswas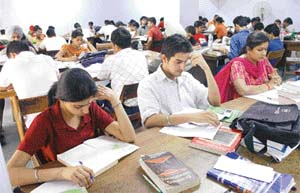 One of the best ways to keep tab on the pulse of the language in its various avatars is to listen to the young set, which is comfortable with English in daily life.
IT was recently at Oxford University, a jewel in the crown of 'English' education, that Indian Prime Minister Manmohan Singh commented with understated humour that "People here may not recognise the language we speak, but let me assure you that it is English!" While accepting an honorary doctorate from his alma mater, he did not forget either to add that the language, a legacy from the colonial period, has been much enriched by the Indian input.
If the UK takes pride in its multiculturalism, urban Indians are comfortable too with a language from across the seas becoming a part of their own day-to-day life. Indeed, any casual observer of the current social scenario would know that the language, which may not be Queen's English, has become the communication language among young and old alike. Old fuddy-duddies still hanging on to Raj nostalgia might be shocked by a yaar tail-ending every other sentence but who cares? Language in any case are not meant to stick static goal posts. A look at the old English words and usage and current usage is enough to understand that.
According to the Oxford Companion to the English language, "An estimated 30 million people regularly use English in India, making (the country) the third largest English speaking country in the world." No wonder the BPO centres are flourishing like greens during the monsoon season. However, many outside the country are surprised when a 'native' speaks so well. Amita Sikri who has recently migrated to Canada is often asked, "Where have you learnt to speak English so well?" Well, let them come to India ! So what if we add a 'no' here and there to confirm something, 'You're coming, no?' Or enquire, 'What's your good name?' a direct translation of the shubh naam. If a Brown Sahib sniggers, counter with 'Give me a better translation,' and he will be floored.
We also know that adding a rhythmic local word adds to the expression's appeal. Like: "Let's go have some chai-vai" (tea obviously with some snacks) or "There's a lot of this fighting-witing happening here every day." If your neighbourhood aunt promises to 'phone' (call) you later you understand perfectly. You don't bat your eyelid either when your new neighbour smiles widely and announces , "Meet my Mrs." What's better way to translate 'My stree' anyway? Or take this beaming young man introducing his 'would-be' – fiancee, of course! to his 'batchmates' instead of class-mates.
A 'pucca' sahib on visit would, perhaps be surprised to be invited to dinner at a 'hotel' until he understands it's local parlance for a restaurant. A proud mother announcing to all and sundry about her ladli beta getting "cent percent" (meaning 100 per cent) marks in math or an executive having to "prepone'' his meeting are taken in stride too.
It might be a little Greek to the firinghee but we understand perfectly when somebody's 'business-baazi' or 'cheating-giri' is discussed. You complain about the taxi-wallah overcharging or are grateful to the nice grocery-wallah next-door without worrying about the addition of the 'wallah'.
A few years ago, the popular sitcom Zabaan Sambhaal Ke , the desi version of BBC's Mind Your Language, had our stomachs (or should we say tummies?) splitting as the harried teacher Pankaj Kapoor tried vainly to grapple with adults from various regions of India wanting to speak propah English. However, it also gave an insight into how the language, with dashes of regional variations and accents, have evolved into an interesting recipe. Purists may call it khichdi, but how lively it is! English language has moved on from the Pygmalion days after all and has taken in many influences from across the world.
One of the best ways to keep tab on the pulse of the language in its various avatars is to listen to the young set, call them GenX or Y, cool guys- whatever, who 'freak out' at the slightest opportunity. Shortening the English words is one way. In Kolkata 'enthu' replacing enthusiasm is old hat as also 'sentu' for sentimental and now they have even moved to Bengali lingo Amar ekhon ekdom enthu nei (I don't have any enthusiasm (for it) now') you can hear even a boy on the street speak like that. 'Funda' for fundamental 'intro' or 'appo' for appointment are freely used. But what about 'snax'? No relation to the salted biscuit brand of the same name but bath! The connection? Well, snan in Bengali means bath, so....
'Tux' has no relation with the tuxedo-who wears it in our country anyway- but a baldie which must have originated with the Hindi word, taklu. Other favourites are ultra or mega to signify extra-big/ extra–something, 'sad' for anything you don't like, 'timepass' for whiling away the hours.
Who knows how long it would be before these enter the dictionaries of the land of Oxford and Cambridge. After all words like hawala, (illegal financial dealings) badla (revenge) or 'eve-teasing' (will be difficult for most outsiders to unravel) were already been included in the appendix to the Collins Dictionary in 2001 which lexicographer and teacher Indira Chowdhury had helped to compile. She is of the opinion that words which are widely used should find a place in a dictionary.
If the country has developed its very own Hinglish, it has been a reverse trend too. India-origin words have dotted English language for a long time. Words like bungalow, cashmere (from Kashm`EEr), cheetah, coolie , cot, cummerbund, cushy (from Hindi khush), dinghy ,dungaree, juggernaut (from Lord Jagannatha's huge rath-yatra perhaps) jungle , khaki (dusty), loot, punch (the drink made of from paanch or five ingrediants), pyjamas, shawl, verandah etc.
In the latest Oxford English Dictionary, words like Angrez (Englishman) and Badmash have already figured. Earlier it had added adda, bundh, dal puri, bandobast, chutney, bandana, chamcha (Oh, are we familiar with them) neta and dhaba.
Sometime ago, the Guardian discussed how ethnic groups have spiced up the English language and added, "The Asian English novelties (are) chuddies for underpants and gora meaning a white person."
Also, waiting in line to enter the pages of dictionaries because they are widely used in England are words like accha, aloo, arre, desi, filmi (with Bollywood inspiring Moulin Rouge and Bombay Dreams it is but natural) jjungli (uncultured) etc.
With the culinary invasion of the Indian curry replacing the traditional fish and chips for the average Britisher, it is but natural that 'masala' has replaced spices, and a cuisine called 'balti' cooking is winning points over the traditional Shepherd's Pie. The die-hard fans of this cuisine may not know that there is no 'balti-style' cooking. The word actually originated from the way food was served from small baltis (buckets). But then that's been the way for ages- the language of the people getting mainstream eventually and enriching it in the long run. — TWF