Garden Life
Colour splash
Kiran Narain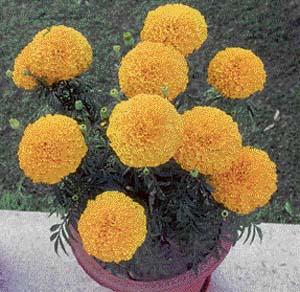 Marigold is a widely grown annual
Available in all shapes, sizes and colours, annuals are most suitable for landscaping your garden. They can be used in individual beds, mixed borders, shrubbery, rock gardens, window boxers and pots.
Providing a quick and rich return to the garden lover, they are particularly valuable in the new garden which has to be economically planted and can be enjoyed before more permanent and expensive stock is planted.
Annuals are functional in numerous ways as they can be used to cover up an unsightly area or the partition between the ornamental and kitchen garden, as fillers in bare spots and between young shrubs.
Majority of the winter annuals love the sun and should be given an open, well-drained soil in a sunny position. However, there are a number of plants like cinerarias, pansies and salvias, which can tolerate some amount of shade.
Ordinary fairly rich soil will suit the winter annuals and poor soil can be enriched with well-rotted farmyard manure — ideally a couple of months earlier dug into and mixed to a friable mixture of soil.
Annual borders and beds should be planned carefully, in advance, according to the size and shape of the garden ensuing that the taller plants do not cover up the beauty of the shorter ones. It may be a good idea to make a few plans of the garden on paper considering the family favourites and check the colour, height and form and as well as the likes and dislikes of the varieties to be planted.
While most of these are first germinated in seed beds and then transplanted, there are a few of them like candytuft, Californian poppy, lupins, and nasturtiums which do better if sown in site. These annuals can be grown in individual beds, with or without edging or in mixed large herbaceous borders. For the mixed borders, taller kinds should be planted in the background, medium in the middle and dwarf ones in the front. Many harmonious and contrasting colours can be chosen from the wide array of shades offered by the winter annuals. However, too many contrasting colours can make the garden look smaller and restless. A good idea would be to use harmonious combinations like oranges and yellows, blues and lilacs or shades of pink.
Hollyhock (growing up to 6 ft) and sweet peas form a good screening plant. Mina lobata (red and orange flowers) and cobaea scandens (cup and saucer plant with blue flowers) too are popular for screening. Antirohirums, lupins, lakspurs, salvias and stock (with vertical form) and African marigold, asters, arctotis and calendulas are the popular medium height annuals that attain a height of about 2.5 to 3 feet. They may need staking and are suitable for individual beds as well as in the middle of a mixed border. Alyssum, Californian poppy, candytuft, brachycome, daises, pansies and mesgmbrantheum make good dwarf plants or groundcovers. The splash of colours will bring pleasure to those possessing gardens-large or small and brighten the winters.