THAI flavour

Bangkok has now emerged as the front-line destination for tourists in Asia. The number of Indians headed for Thailand has been growing at such a fast pace that airlines have increased the number of flights to this choice tourist spot that spells urban excitement. Donald Banerjee reports after a recent visit.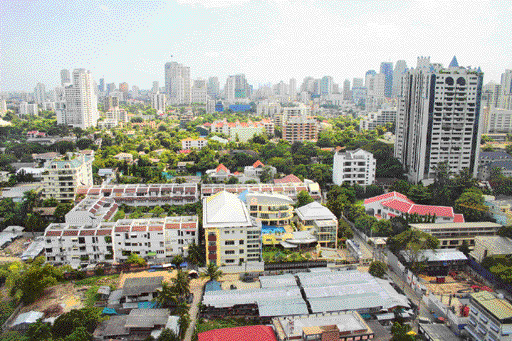 An aerial view of Bangkok city from the top floor of a hotel
LUXURY hotels, colourful markets, exotic nightlife, cruises and a relaxing Thai massage — the attractions are endless. Yes, Thailand is out to capture the expanding Asian tourist market with a brimming trove of treasures.
Bangkok has now emerged as the front-line destination for tourists from the continent. The number of Indians heading for Thailand has been growing at such a fast pace that airlines have increased the number of flights to this colourful land. The air tickets from Indian metros to Bangkok are cheaper than flights from one city to another in India. Imagine a return ticket for Bangkok can come for Rs 11,000. Yes, this is the latest offer by Thai Airways, which has 28 flights every week to Bangkok and beyond from India.
Over 60 per cent of Thailand's tourists come from Asia, while just 24 per cent arrive from Europe and 6 per cent from the US — a share that has been dwindling since 1980.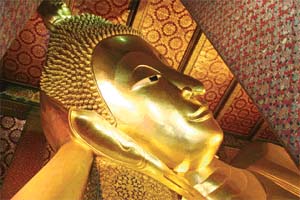 The head of the Reclining Buddha at the Wat Pho temple in Bangkok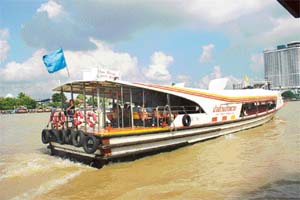 A cruise on the Chao Phya river aboard a barge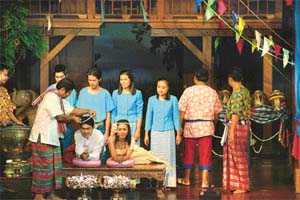 A traditional marriage at the Thai village show organised by the Rose Garden resort, 32 km from Bangkok.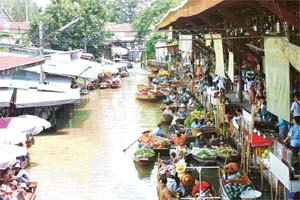 The floating market at Damnoen Saduak, 100 km from Bangkok. — Photos by Rajiv Sethi
Thailand's most popular destinations are Bangkok, Chiang Mai, Phuket, Pattaya, Hua Hin and Cha-am. Phuket, which bore the brunt of the tsunami, is fast recovering. Beginning on August 15, the ethnic Chinese population celebrated the Hungry Ghosts festival, an annual religious fare held in the southern part of Phuket town. The island is nestled in the balmy waters of the Andaman Sea,
Thailand's portion of the Indian Ocean.
The Pattaya beach, Bangkok and Chiang Mai are a favourite with Indian tourists. Bangkok, in addition to being a sightseer's delight, is a shopper's mecca. Clothes and accessories, gems and jewellery, handicrafts and gift items and plenty more can be found through out the city at outdoor markets, department stores, modern malls and luxury retail complexes. And with the BTS skytrain, river ferry service and the new MRT subway, much of Bangkok's shopping is within fast and easy reach.
This cosmopolitan capital offers an unrivalled range of international cuisine. Indian restaurants, German beer gardens, Italian bistros, Japanese restaurants and British pubs can be found everywhere. But the main attraction remains Thai food.
Chiang Mai, about 785 km from Bangkok, is a 11,600 sq km mountainous expanse touching the Mekong river. Bordering Myanmar and Laos, the province is rich in tourism resources, in terms of natural attractions and antiquities, which serve as reminders of an ancient civilisation. It is also home to several hill tribes, which lead simple, albeit fascinating, ways of life.
Bangkok's unexpandable Don Muang airport will give way to the new Suvarnabhumi airport where international flights will start landing before the end of this year. Two runways, capable of handling 76 flights per hour and 45 million passengers a year, will feed the new airport's 51 gates and 69 remote bays. A 10-lane road connects the seven-floor airport to the city's Outer Ring Road and the expressway to Pattaya.
I was in a team of journalists on the Thai Airways plane as it cruised in for a perfect landing through a patch of white cloud. We had arrived in Bangkok. Airport formalities over, we boarded a domestic flight to Chiang Mai. A smiling Jackie, our guide, waved to us. As we made our way to Amari hotel, Jackie (Jakrachau) gave us a brief account of the unique indigenous cultural identity of Chiang Mai.
Soon we were on our first outing in Chiang Mai. The destination was the jade factories. On display were precious stones — green, dusky pink, red and white. Nimble fingers were at work on the jade, saphire, ruby and emeralds. The prices of some of the big artefacts were to be seen to be believed. A green big Viking ship for $ 45,000, fighting dragons for $ 93,000.
Women were at work on the charkha at Huanfai Dai-Ngam. And at a little distance was a unit for Thai silk. These outlets are the main centres for quality handicrafts.
The next day Chiang Mai unfolded its mountainous terrain and teak forests. We were headed for the Matetapan elephant park. As we drove down, we came across houses with sloping roofs. The road narrowed down as we turned towards the elephant park. After the traditional elephant namaskar, the jumbos got down to a painting contest. Seated on chairs they painted with their trunks. And what pieces of art they churned out was evident from the "sold out" tags on every canvas the jumbos had worked on. Then followed an elephant ride through hill and dale and a bumpy cart ride. Finally, three of us braved rafting on the fast-flowing Maeteng river.
At the Wat Chiang Man, we saw the 2,500-year-old Buddha statue made of marble. Chiang Mai is cooler than Bangkok as it nestles in the foothills and has an abundance of green cover.
The next destination was Bangkok. A virtual concrete jungle, multi-storeyed complexes dotted the vast city. At the Wat Pho temple, the 46-metre Reclining Buddha stood in all its splendour. Tourists clicked their cameras as Thai locals got lessons from monks. Then there was the Wat Trimitwitthayarm temple with a five-tonne and three-metre tall Sukhothai-style Buddha image made of solid gold.
The evening cruise on the Chao Phya aboard an antique teakwood rice barge was a two-hour journey through Thai history and culture. The finale came with a perfect Thai dinner.
The bespectacled Niwat was our guide at Bangkok. We were hustled out of our beds early next morning. The destination was the floating market at Damnoen Saduak, 100 km from Bangkok. We passed through business centres with rows upon rows of cars.
"This is the place where the first Siamese twins were born," said the guide as we passed by Samugram. A little further down at Damnern Saduak, palm sugar was being made. After a brief halt we proceeded towards the floating market. A motorboat ride through a narrow channel brought us to the bustling market.
Everything from a needle to an elephant (barring the two) was being sold at the vast market on the platform as well as on the stationary boats lining the narrow channel.
Our lunch date was at the Rose Garden resorts. Situated 32 km west of Bangkok along the banks of the Ta Chine river, it is spread over 75 acres of lush tropical gardens and has well-manicured lawns. One can have a taste of 'Thai living' at the Rose Garden Aprime Resort. Guests can experience first hand the old world charms of rural Thai lifestyle, customs and traditions.
After a Thai lunch at the resort, we were transferred to a colourful Thai village show. It included a Buddhist ordination procession, sword-fighting, elephants at work, a folk dance and a traditional wedding ceremony.
We were out the next morning for a feel of the shopping complexes of Bangkok. The city offers something for everyone at prices to fit any budget. There are must-visits bargain basement street markets as well as elegant boutiques.
The one-kilometre stretch along Rama I and Ploenchit Roads on the BTS skytrain route was a virtual fashion avenue with modern shopping complexes at every stop. The trendy stretch began at the National Stadium Station with the MBK mall housing floor after floor of small shops overflowing with clothes, cosmetics, DVDs and anything electronic. Next came the Siam Interchange Station and Siam Square loaded with mid-range shops and eateries.
The street markets offer you ample scope to test your bargaining skills. At one of the markets we struck a deal for a bag for 100 bath, for which the dealer had quoted 350 bath. The Thai Airways official accompanying us, Ashok Hemrajani, was always at hand to help us out.
A visit to Thailand without the traditional massage would be incomplete. Nothing like a foot massage to liven up tired toes. Every street, virtually every lane, is dotted with massage parlours. Even our hosts, The Thai Airways, offer massage to the upper-class passengers. As we headed back on the Thai Airways flight, we saw the blinking lights of Bangkok, beckoning us back.