Now darshan on the Net
Vinaya Kumar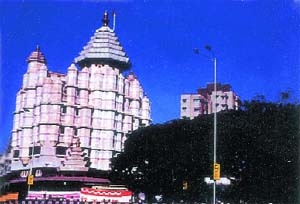 The Siddhivinayak temple in Mumbai
OF the thousands of Vinayak temples in India, the Siddhivinayak temple in the Prabhadevi area of Mumbai is the richest. Its annual income from all sources is estimated to be Rs 15 crore. But then, Lord Ganesha has been always a crowd-puller, and with Mumbaikars being the most ardent worshippers of the elephant-faced God in India, the wealth is to be expected.
The Siddhivinayak temple plans to make darshans available on the Internet. This will be facilitated through webcams installed in the sanctum sanctorum of the shrine which can be accessed on the temple website.
This popular temple dedicated to Ganesh was rebuilt on the site of a 200-year-old temple. The statue is made of black stone. Firstly, it is said to be a Swayambhu idol. That is, one that was not crafted by any human hand but was found fully formed. Another unusual feature is that the trunk turns to the right, a feature not often found on Ganesh idols. Flanking the deity on both sides are Riddhi and Siddhi, goddesses signifying sanctity, fulfillment, prosperity and riches. Etched on the forehead of the deity is an eye, which resembles the third eye of Lord Shiva.
This temple was first consecrated on Thursday, 19th November 1801, a fact noted in government records. It, then, was a small structure housing the idol of Shree Siddhivinayak. It was renovated in 1939 and rebuilt by Ganesha's devotees in 1970.
A number of worshippers reach a peak on Tuesday, which is considered to be the day of Lord Ganesh. More than 15 lakh devotees are reported to visit the Siddhivinayak temple on Angarki Chaturti, which occurs five times in a year. "A darshan of the deity on one Angarki day, is equivalent to 21 Tuesday darshans," said Dr Jagnnath Hegde, city sheriff and former trustee of the temple. Three years ago, an Angarki day brought around eight to nine lakh pilgrims to the temple.
The temple also attracts the high and mighty — from cricketer Sachin Tendulkar to actor Amitabh Bachchan to chief ministers.
Statistics show that on an average, one million visitors come to the temple in a week, with five lakh coming in on Tuesdays. The annual collections are Rs 15 crore with the break-down as follows: Rs 7 crore from the temple hundi, Rs 3 crore from pooja services, Rs 2 crore in the form of donations and the interest from investments netting Rs 3 crore.
The extreme wealth of the temple has also brought a lot of scandals.About two decades ago, it was found that the Kalash, which is a gold-plated, 12-foot high, 1500 kg pointed dome above the sanctum, began to darken, showing that the 'contractors' had not used pure gold. Till then, nearly Rs 7 crore had been spent on the building of the new temple and the temple authorities forced the culprits to replace the Kalash. — MF