Lyrics lie in the eye of the beholder
Surendra Miglani recounts occasions when lyrics in Hindi movies have been completely out of tune with the visuals because of a lack of coordination between the director and the lyricists

According to the song Surkh jode mein... Shilpa Shetty is said to be wearing red while she sports blue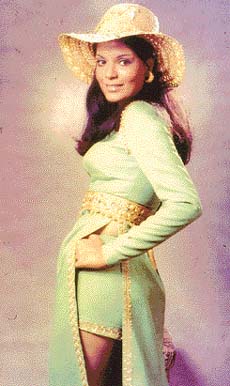 Zeenat and thin lips?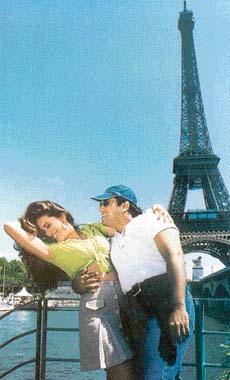 The out-of-tune Hero No I
Lyricists in Hindi films often have to write songs without really studying the situation in the movie. When directors and editors fail to notice or overlook such slips, cine-goers end up getting (unintended) comic relief .
Take the case of David Dhawan's Hero No. 1 in which Govinda sings to the fatherless heroine (Karisma Kapoor): Main tujhko bhaga laya hoon tere ghar se, o tere baap ke dar se !
In L.V. Prasad's Ek Duuje Ke Liye, Kamal Hassan is a Tamilian youth. During his conversations with Asrani, a Hindi film buff, we come to know about the former's ignorance of Hindi films. Yet he sings a number in which several Hindi film titles have been strung together (Mere jeevan saathi, pyaar kiye ja, jawani diwani, khoobsoorat ziddi, padosan`85). Surely, only a diehard fan of Hindi movies could have sung such a number, no?
In Satish Kaushik's Mujhe Kuchh Kehna Hai, hero Tushar Kapoor has had only a glimpse of Kareena Kapoor and is desperately trying to meet her . Frustrated, he bursts into the title song, singing, among other things, Dard-e-judaai ka gham mujhko aur nahin ab sehna hai. So here is a guy who has not even met the girl and he is crying over judaai (separation) from her!
And then take the case of Subhash Ghai's Karz in which Rishi Kapoor sings to Teena Munim Dard - e- dil, dard – e - jigar dil mein jagaya aapne, pehle to main shaayar tha aashiq banaya aapne`85 Come on, Rishi! You were a pop singer and dancer, and not a shaayar (poet) before you took to aashiqui !
In Gopichand Jasoos, Raj Kapoor praises Zeenat Aman's "patle honth" (thin lips) in a number. Zeenat Aman's lips are thin`85really?
In Baazigar, Shah Rukh Khan sings Ye kaali kaali aankhen, ye gorey gorey gaal`85 to Kajol who actually has light eyes.
Another movie where the hero's "colour blindness" comes to the fore is Shakti Samantha's Kashmir Ki Kali. Here is Shammi Kapoor singing to Sharmila Tagore: Ye chand sa roshan chehra, zulfon ka rang sunehra, ye jheel si neeli aankhen`85 Sharmila has blue eyes `85 that's news! Incidentally, in another song in the same movie (Subhan allah haaye`85) which Shammi sings to the same heroine has a line Hain zulfein ya ghataayen. Now ghataayen are, of course, black. Funny, is it not, that the heroine is praised for her sunehri (golden) locks in one song and for black hairline in the other?
The Aapki nazron ne samjha pyaar ke kaabil mujhe`85number, penned by Raja Mehndi Ali Khan for Kiron Productions' Anpadh (1962), is one of those gems where poetry drips from every line. What makes the whole thing look really ridiculous is that the woman is actually illiterate. If illiterates can express their feelings so well, well, long live illiteracy!
In Raj Kapoor's Prem Rog, Rishi Kapoor says pyaar but the heroine (Padmini Kolhapure) says she doesn't know what's that! Then she sings Mohabbat hai kya cheez ye humko bataao, ye kis ne shuru ki hamein bhi sunaao. Well, the word mohabbat never figured in the conversation. So here is a woman who does not know what pyaar is but knows that pyaar and mohabbat are one and the same thing! What ignorance!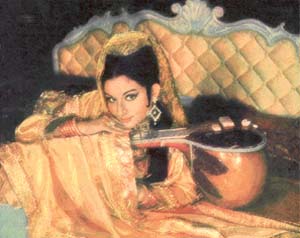 Sharmila is serenaded for her blue eyes in Kashmir Ki Kali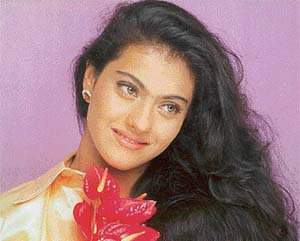 And light-eyed Kajol is praised for her black eyes in Baazigar
In the movie Jeena Sirrf Mere Liye, the girl singing the number Sar sar sar sar se sarka jaaye mera lal dupatta`85 actually has no dupatta! Similarly, in David Dhawan's Maine Pyar Kyon Kiya, Sushmita Sen sings Laga laga laga re prem rog and says chunri lehrayee even though she is wearing a saree !
And in Pankaj Parashar's Tumko No Bhool Payenge, we have Salman Khan singing to Sushmita Sen Kyoon khanke teri choori, kyoon chamke teri bindiya, kyoon chhanke teri payal`85 even though the actress is neither wearing a bindiya nor payal !
Yash Chopra's Chandni has Sridevi singing Mere haathon mein nau nau chudiyan hain`85 while actually she has more than two dozen bangles in each wrist!
In Pankaj Parashar's Rajkumar, Anil Kapoor speaks in a Rajasthani dialect, in Gharwali Baharwali, Rambha speaks in Nepali language and in Saudagar, Dilip Kumar speaks Haryanvi However, when these actors sing songs, they do so in chaste Hindi!
And in Dharmesh Darshan's Dhadkan, there is this song, rendered by Nusrat Fateh Ali Khan, Dulhe ka sehra suhana lagta hai picturised on the occasion of Shilpa Shetty's wedding. A line of the number goes as Surkh jode mein chand si dulhan... Nothing wrong there`85unless one considers the fact that the bride's dress in the scene is blue, and not surkh (red)!
And imagine a situation where the hero (Pradeep Kumar) is playing a been and the heroine (Vyjayanthimala), hypnotised by its sound, sings Tan dole mera man dole, merae dil ka gaya karaar re, ye kaun bajaye bansuriya It happened in Filmistan's Nagin !