Smart selling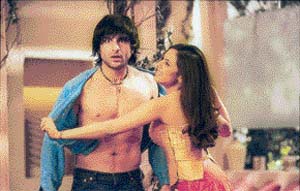 A comic strip of Hum Tum made an appearance in TV soap Jassi Jaisi Koi Nahin
Marketing and publicity campaigns of Bollywood films have come of age. As television promos and larger-than-life posters become pass`E9, Bollywood laps up the latest buzzword innovation.
"The audience of today have a limited attention span. A movie has to make an impact on the first day of release. Its fortune is decided in three-four days," says Tarun Tripathi, marketing head of Yashraj Films.
Tarun had taken care of the marketing of Hum Tum, a Rani Mukherjee starrer, for the same banner. The film, co-starring Saif Ali Khan, essaying the role of a cartoonist, was accompanied by unique promotional stunts - a comic strip in a popular English daily, a tie-up with a chips brand, and an appearance in the popular soap, Jassi Jaisi Koi Nahin.
According to reports, while a producer would ideally invest 10-15 per cent of the total production budget on marketing and promotions, there are increasing incidents where it is getting stretched to 20-25 per cent.
Here is a string of some such 'innovative' eyeball-grabbing strategies: Body beautiful Mallika Sherawat sold tickets of her latest flick Bachke Rehna Re Baba at a theatre in the national Capital.
Actors Abhishek Bachchan and Rani Mukherjee played pranks on unsuspecting victims on popular MTV channel show Bakra to promote Bunty Aur Babli in which they play cons.
Kaal had Shah Rukh Khan pirouetting with the ever-hot Malaika Arora Khan. The film, otherwise trashed by the audience, benefited hugely from Khan's item number.
Taking things to another extreme are films that are a product of market research. B-School dean-turned-film producer Arindam Chaudhuri's Rok Sako To Rok Lo was made after thorough research, but sank without a trace.
No amount of good marketing, however, can replace the importance of content.
"Often marketing and publicity campaigns backfire as the success of a film depends on how the audience accepts it," maintain trade analysts.
There are no holds barred in innovation, and Bollywood has probably gathered this lesson well, and profitably too. Tying up with corporate houses is the latest way to rake in the moolah.
Apparently, the makers of the Sanjay Dutt-starrer, Plan, pocketed a net Rs 45 million for promoting Radico Khaitan's 8PM whisky. It's no surprise then that the liquor brand was on top of consumers' mind for a good six months after the movie's release.
Reports say Yash Raj Films' senior marketing executive Tarun Tripathi invested only 10-12 per cent of the total production cost of Hum Tum on marketing and publicity. Some free-of-cost deals got the movie free publicity worth 30-35 per cent of its budget.
While we're going the whole hog focusing on careful and planned publicity strategies, why leave out publicity stunts? If a Tom Cruise can kiss a Katie Holmes in full public view just before the release of a movie starring the two, and a Brad Pitt and Angelina Jolie reportedly develop an intense relationship on the sets of Mr and Mrs Smith, do you think dear ol' Bollywood would be far behind in garnering the fruits of publicity gimmicks?
The very graphic Kareena Kapoor-Shahid Kapur lip-lock, movie clips of Ashmit Patel with Riya Sen or threatening calls from underworld dons to Ram Gopal Varma are all being looked upon as attempts to get that extra mileage for their films, or in some cases, media attention to sinking careers.
But hey, everything is fair in love and war. — IANS