Television
Comedy no laughing matter
Randeep Wadehra looks at The Great Indian Laughter Challenge and talks to Bhagwant Mann, our man from the region in the running for the top slot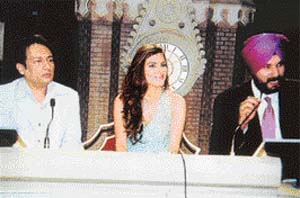 Shekhar Suman, Parizad and Navjot Sidhu on the sets of The Great Indian Laughter Challenge: Packing in the punch
MAKING people laugh is no joke. Thatís why comedians sweat it out to come up with original gags and punchlines to earn public acclaim. And, for those who earn their bread as comedians, comedy is certainly not a laughing matter. Unlike the West, India does not take its humourists seriously. Bollywood has already turned this art into buffoonery.
Moreover, how many readers can recall having read great original humour in our
literature?
In the Indian milieu it was always difficult for new talent to get exposure because, like in other walks of life, the TINA factor operated here too. However, the onset of satellite television has breathed some life into the art. The SAB television is already a full-fledged comedy channel, while other channels have slots for at least one sitcom.
Now Star One has, after successfully launching The Great Indian Comedy, come up with The Great Indian Laughter Challenge, with Shekhar Suman and Navjot Sidhu as judges. While Shekhar has established himself as small screenís wizard of wit, Sidhu is famous for his Sidhuisms.
For the Laughter Challenge there are six finalists, viz., Ehsaan Qureshi, Parag Kansara, Raju Srivastav, Sunil Pal, Navin Prabhakar and Bhagwant Mann. The competition cannot be described as of high standard because most of the gags were recycled jokes or plagiarised one-liners. However there was some original stuff too, which was peddled by the six finalists. The first leg of the finals, held on September 2, had Johnny Lever as a special judge along with Sidhu and Suman.
Parizadís compering was good. But the performance of the finalists could, at best, be described as above average-but-not-excellent. Bhagwant Mann scored 40.7 points and was placed third. Nonetheless, a commendable effort by the channel to keep the lifeís funny side up.
"I want people to sit down and reflect"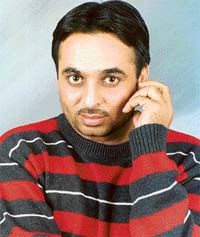 Bhagwant Mann
ITíS been a long haul to stardom for the boy from Satauj village in Punjabís Sangrur District. At school, heíd mimic his teachers and make his classmates laugh. The teachers were not amused though. Later on, his talent for jesting earned for the Punjabi University, Patiala, two gold medals in National Youth Festivals. Today, heís already on the way to becoming the nationís "laughter-icon". Bhagwant Mann has an eye for the ridiculous garnished with oodles of humour, which helped him become Punjabi small screenís laughter-generator, and has kept him in the race for The Great Indian Laughter Challenge, launched on Star One on July 3 this year, with finals on September 2 and 9. He was shortlisted among the 50 talented comedians from across the country. And now`85
Congratulations on reaching the finals. How does it feel?
Thank you. Itís all due to the blessings of my well wishers. It feels just great.
Iím in Mumbai to shoot for The Great Indian Laughter Champion series.
All the six finalists are being featured in a special series as champions. After all we are six of the best budding comedians in the country.
With more than 11 years of experience as a stand-up comedian on the Punjabi television and scores of VCDs to boot, still you are budding`85
Iíve done exactly five comedy VCDs and 20 audio cassettes. Yes, stage shows, both in India and abroad, have been numerous. Getting national exposure is a different game altogether.
In what way?
Like graduating from a state Ranji team to becoming a Test player. My ideas are of national relevance, like corruption, police atrocities, political hypocrisy et al. Mind you, in Zee Punjabiís Jugnu Mast`85 Iíve been raising these issues. Now Iím doing the same in Hindi.
What has the response been like?
Beyond my expectations. People have begun to stop me to tell me how much they appreciate my work. Even a seasoned entertainer like Shekhar Suman, whoís also one of the judges for the show, has praised the content of my presentations.
Could you explain?
For example, when I said that in the Parliament the Speaker is the only one who couldnít utter a word, it made a great impact.
And the other judge?
Oh, Navjot Sidhu just couldnít stop laughing.
So, youíre making people sit up and take notice of the Punjabi brand of humour?
Itís more like making them sit down and reflect on what Iím trying to convey. Thereís so much of pain and exploitation in our society. I donít want the audience to wallow in gloom. They should think while laughing.
Weighty comedy, huh?
(Laughs). Yes, something like that. But not too heavy either.
Mission AIDS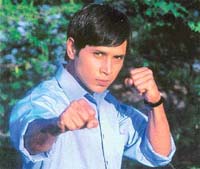 Khan as Jasoos Vijay: Spreading awareness
ITíS a detective series with a twist. Jasoos Vijay, Indiaís first interactive detective drama, gives viewers a chance to solve a mystery. The series addresses a range of social issues from awareness about HIV/AIDS to superstitions and crimes against women. In its first avatar it was seen by a record 185 million viewers.
Now the series produced by BBC World Service Trust is back on Doordarshan every Sunday at 8.30 p.m. with Farhaan Khan playing the detective hero and Poorva Parag doing the role of his devoted life partner Gauri. The series has a big following in rural areas where DD is still the prime source of entertainment.
The interactive element of the series is hosted by Om Puri who prompts viewers to examine the plot, solve the crime and write in with the solution. One of the worldís most intensive broadcast campaigns, Jasoos Vijay is being dubbed in seven languages ó Tamil, Telugu, Malayalam, Kannada, Assamese, Oriya and Bengali. The project funded by the British Government is budgeted at around Rs 26 crore has been is successful in raising AIDS awareness in different parts of India.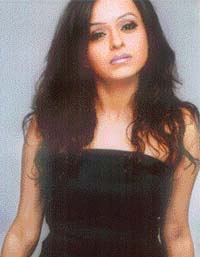 Sheetal Thakkar
A costly jaunt
ITíS a month sheíd like to forget. Sheetal Thakkarís first setback came when Sony replaced her in Yeh Meri Life Hai because of her extended European holiday. On her arrival, her car went missing and she had to go through a harassing time with the cops.
"Itís been just awful," says Sheetal who played the role of Poornima, the protagonistís elder sister in Yeh Meri Life Hai. "I know producers donít wait for anybody these days but I felt bad because I dedicated a year and a half of my life to the show."
"Sitting idle is not my thing and I hope to land some more shows soon," says Sheetal. Sure, there are some offers in the pipeline but now wary producers are adding another clause in her contract ó full commitment and no extended foreign jaunts. ó NF