Art, an act of creation: sociologist
Tribune News Service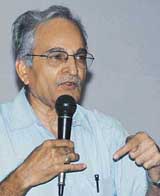 Dr S.L. Sharma, a former Head of the Sociology Department, Panjab University, delivers a lecture on the "Sociology of art" at the Government Museum and Art Gallery, Sector 10, Chandigarh, on Tuesday. — A Tribune photograph

Chandigarh, September 13
The Chandigarh Lalit Kala Akademi (CLKA) organised a lecture on "Sociology of art" by an eminent sociologist, Dr S.L. Sharma, who has been the Head of the Sociology Department at Panjab University.
The lecture, the second in a series being organised by the CLKA, aims at bringing together art lovers, critics and artists to share a common platform and discuss divergent views on art and its influences.
A small, albeit rapt audience, participated fervently in the lecture and the question and answer session that followed.
Dr Sharma began his lecture with the three pertinent aspects of art namely the social nature of art, the dynamic interdependence of art and society and the impact of art on society. "Since art consists of forms of creation, communication and cohesion, it is primarily a social activity — a form of expression, an act of creation."
According to Dr Sharma, creation exists even in the animal kingdom — "even birds make nests" — but man is different for his ability to create cultures whereas in animals the act of creation is instinctive rather than acquired. "Man is the only creature that gives several meanings to a created model." For Dr Sharma, art is perhaps the most evolved form of creativity. "Communication is the starting point of society and art is a mode of communication."
Art has the unique distinction of cutting through caste, religion, gender and race, a means of social integration. "The concern of sociology of art is to examine the relationship between social structure and art."
He then defined the three schools of thought on this subject. One, the structural school of thought, where art is considered to be a reflection of society of its time of which it is a product.
However, this was rejected by thinkers because, "This perspective does not do justice to the role of the artist". The second is seeing art through the eyes of the artist.
The third is the post modernist perspective, which maintains that neither is there a structure to society nor of art; it simply a mental construct imposed by us on society and art. "We have to appreciate that the consumers of artworks have become more important than artists per se. There is no way to know precisely what message the artist wants to convey. After all, interpretation is more important than intention of art."
As far as the impact of art is concerned, "A piece of art has a life of its own and is not dependent on the social structure of its time". However, he said, the media had begum to impinge on our social life. "Art is being used as a medium to manipulate people's thinking. Take for instance the case of advertising.
Art is getting more and more linked to market forces and is becoming a commodity and this will have significant implications to the character of art."
Dr Sharma concluded his talk by explaining that those aspects, which determined art, were also what bound art together — race, generational aspects, gender perspective, economic outlook, power, culture and social structures.