Wednesday, September 14, 2005
Career Hotline
Pet profession
Pervin Malhotra
Q I am an animal lover and would be very happy if I could have a career where I can spend a lot of time with animals. What are the options I could look at other than veterinary science?
— Karanjeet Chawla
A Working with animals can be both and satisfying and rewarding. But firstly, you must determine whether your interest is essentially academic or emotional or whether you would like to be associated with animals in a more interactive way.
If your interest is academic, then you could think about studying Zoology, Ecology or Environmental Science with specialisation in wildlife habitat.
A wide variety of careers are available for people who are willing to work closely with animals. You could pursue veterinary science to become a veterinarian or a vet nurse or you could study animal behaviour and become a trainer (dog/horse/cat) etc. Such jobs don't strictly require an academic qualification. On-the-job-training/or apprenticeship under a professional would suffice.
If National Geographic, Discovery and Animal Planet are your favourite channels and Jane Goodall your role model, there is countless species you could concentrate on. Depending on what interests you most, the type of work and the level of hands-on involvement would differ.
The kind of animal-related career you choose will depend on the other subjects you are interested in. For instance:
If you like to write, then there is a large market for wildlife journalists.
If photography is a passion, then wildlife photography and filmmaking are the areas to look at.
If you are keenly observant and have good note-taking skills you might find biological fieldwork interesting.
If animal conservation is your mission, you could combine your interest with training in advocacy/PR. and join any of the several organisation that are involved in protecting animal rights.
If the health sciences interest you, you could choose to become a veterinarian or work toward a job that involves animal farming.
You could also open a kennel or 'hostel' for pets whose owners can't leave them at home when they are away. You can manufacture packaged pet food, and functional but smart coats, accessories and 'houses' for pets`85the opportunities are endless.
Lastly, choosing to work with animals implies you understand and accept that the work may sometimes be dirty and smelly, mentally and physically exhausting. At times, some hard decision needs to be taken, things may not always go according to plan and the work may not fetch enough money.


Lots of options for lab technologists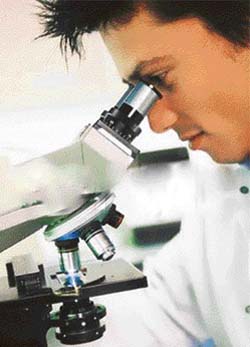 Q I am a student of Class XII (Science). I would like to opt for a bachelor's programme in medical laboratory technology. Please tell me the job prospects.
— Amit Singh
A The field of is an endlessly variable and ever growing one with lots of diversity. There's new technology coming online all the time. But you have to find your niche. You can work in areas that are well automated or ones that are almost completely manual and highly dependent on technical experience and skill.
You could work as a medical or laboratory technician in hospitals and scientific institutions involved in conducting research and training. You can work with patients or alone behind the scenes. And if you do ever get bored, or feel stuck in a rut, learn a new area in the lab i.e. cytology, haematology.
You could even start off as a research assistant in a university, government body, health authority or pharmaceutical industry or as an analyst in the food and beverage or and pharmaceutical industries to maintain quality and consistency of the products.
Job recognition may be low, but for those who love it, job satisfaction is high.
Try to get your first job in a large recognised hospital. Having that on your resume will serve as a passport to better openings. You can even upgrade your qualifications by doing M.Sc (MLT) through distance learning while working.
If you are outgoing and have decent communication skills, you could join a reputed pharmaceutical firm as a medical representative. The work would entail marketing of pharmaceutical and healthcare products to medical and veterinary practitioners, retail pharmacists, hospitals and clinics.
Physics and postgraduation
Q I am doing Physics (H). Could you please tell me what job options I have after completing graduation, and even postgraduation in this area?
— Amjoth Kaur
A Physics finds a wide application in industry, atomic and space organisations, forensic science, meteorology, electronics, design & development engineering, research laboratories. It also has considerable commercial and military value. Physicists are mainly involved in (R&D) research and development in specialised branches such as elementary particle physics, astrophysics, nuclear physics, biotechnology, etc. A growing number of physicists are specialising in biophysics, chemical physics, radio physics, astrophysics and related sciences.
Besides going in for research, you could also teach in colleges/universities for which the minimum requirement is M.Sc Physics and qualifying the UGC-CSIR NET for lectureship and JRF.
You need a B.Ed to be able to teach at the school level. MSc followed by a BEd will enable you to teach at the high school level.
If IT interests you, go in for an MCA or M.Sc (IT) instead. The demanding mathematical content of your B.Sc (H) is a good preparation for MCA and MBA entrance exams.
M.Sc Physics students are also eligible for pursuing M.Tech (in a host of engineering/technology disciplines including aeronautical, automobile, instrumentation, electronics & communication, or computer science at leading institutions including the IITs after taking the GATE (Graduate Aptitude Test in Engineering).
Postgraduate diplomas in leather, sugar, plastics, processing, packaging or environment technology are some other options you could look at.
Moreover, the skills developed while studying Physics, particularly the ability to research, evaluate and communicate information, will hold you in good stead in just about any field you may choose to train for - be it management, information technology, or aviation.
You can also take the Civil Services as well as the Indian Forest Service Exams with Physics as one of the papers in the Mains.
The Combined Defence Services Exam is yet another option.
The Indian Air Force offers a special entry scheme for B.Sc graduates who have a 'C' certificate of the NCC Air Wing for Permanent Commission in the Flying Branch.
The armed forces also offer Direct Entry in the Education Branch to M.Sc graduates who clear the SSB interview/test.
And, if you have a yen for art, you could take up a Master's in History of Art; Conservation & Restoration of Works of Art; and Museology. Eligibility for these courses is B.Sc (Chem/Phy).
Try textile design
Q I am interested in doing a course in textile design. Can you please tell me about the job prospects in this field?
— Amrit Sachdeva
A Concerned primarily with fabric, textile designing covers a wide range of disciplines such as printing, dyeing, weaving, knitting, embroidery and design development. It includes designing fabrics of all kinds such as clothes, curtains, bed linen, towels, carpets and even lace. Designing is even done for wallpaper, printed plastic sheeting and floor covering.
The booming domestic and export market for garments and soft furnishings provide ample scope for talented textile designers — now even more so after the dismantling of the quota system.
If you specialise in textile design, you can also work as a colour specialist. Design studios, export houses, textile mills, textile dyeing and printing units and even fashion designers employ textile designers — on full-time and freelance basis.
Aerospace course
Q I am a student of civil engineering. Can I pursue aerospace engineering at the M. Tech level?
— Harry Singh
A Yes, you can. For admission to the M.Tech programme in Aerospace Engineering at the IITs you need a Bachelor's degree in aeronautical/aerospace, mechanical, civil, chemical engineering or naval architecture and a valid GATE scores. I guess it would be the same at most other engineering colleges that offer this specialisation as well.
IT saturation
Q I had computers as a subject in school and found it very interesting. So I thought I'd do BCA in college. But now everyone says IT is saturated. Is this true?
— Govind Ahuja
A IT remains one of the fastest growing sectors in the country, and consequently one of the most sought after career options among Indian youth, along with the all-time favourites — engineering, medicine, management, and now biotech. And with 25 per cent of "Fortune 1000" companies outsourcing from here, clearly, the centre of gravity for ITES has shifted to India.
Over 700 million computers are in use all over the world. Considering that every 3-4 computers need at least one person to run them, you have millions of jobs going in this field! IT professionals are in hot demand. The industry is hiring like never before — not in hundreds, but in thousands. Roughly 60 per cent jobs in this sector are in the BPO space, while the rest are in software development. Along with freshers, those in real demand are middle and senior level professionals and project leaders.
So, make sure you develop marketable IT skills. A BCA is just the beginning; top it with a PG course — MCA/MSc IT from a reputed institution to be on firmer ground. Perhaps you can add on some relevant vendor certifications alongside to improve your prospects. You could even consider further specialisation in information, gaming technology etc.
Alternatively, you can hone your skills with an MBA (IT/Syst) to improve your prospects.
All said and done, IT is a big industry, which will only grow bigger. The demand for IT jobs is bound to grow and not decrease — in the long term.
CAT clues
Q I am planning to take the CAT this year. But I'm very confused about which field to choose between marketing, finance, HR and systems. Which has more scope and is more paying — marketing or finance?
— Maninder Chadha
A Both marketing and finance are critical business functions. Your professional success, however, will depend on your individual skills, aptitude and initiative — regardless of the specialisation you choose. Your pay packet will also depend on the B-school you graduate from, the kind of companies that visit your campus for recruitment and to some extent on the sectoral cycles that prevail at the time of placement (e.g. when the economy is booming, jobs in finance are at a premium).
Not to worry though: the first year's MBA curriculum at most B-schools (with a few exceptions like XLRI or TISS) is compulsory for all students.
It will cover the basic functional areas of finance and accounting, marketing, personnel and operations management. You will also learn the basic principles of economics, behavioural sciences, information technology and quantitative methods in the context of business management.
At the end of the first year, you will work on a summer assignment (8-10 weeks) in an organisation.
In the second year, you will have the opportunity to pursue the areas of special interest to you. Therefore, all the second year courses in good B-schools like the IIMs, are electives.
Besides helping you develop an integrated approach to solving business problems, this gives you sufficient time to choose your field of specialisation. IIMA and a number of other B-schools give you the flexibility of dual specialisation. You can even mix and match courses from different streams if you like — as long as you are prepared to take on the load of extra credits.
Globally, MBA has always been a generalist degree and so it should remain. MBAs need to develop a holistic or "helicopter" vision of all the business processes. As you climb up the organisation, it's the generalist approach that will hold you in good stead.
The writer is a noted career consultant
Please send in your query, preferably on a postcard, along with your full name, complete address and academic qualifications to: Editor, Jobs and Careers, The Tribune, Sector 29,
Chandigarh — 160030, or at careers@tribunemail.com