Hazards from MRI scanners
K.S. Parthasarathy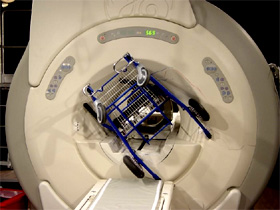 A chair stuck in the gantry because of
magnetic force

Magnetic Resonance Imaging (MRI) scanner is a unique diagnostic tool. Recently, specialists and regulatory agencies have highlighted some of the dangers from this irreplaceable, life-saving equipment.
MRI scanners use powerful magnets. These exert tremendous force on any magnetic substance coming closer to it. "Missile effects" due to the magnetic attraction caused the most notable accidents. Dr Moriel NessAiver, a physicist has published 14 telling photos of hair-raising incidents in a
website called simplyphysics.com.
Four of them depict chairs stuck in the gantry; in other instances the objects which flew into gantry were a welding tank, an oxygen tank and a steel stand used to hang glass bottles for intravenous drips.
In one instance, the hospital has to engage four men to pull a gurney (a cot mounted on wheels) with a patient on it off a scanner!
In July 2001, Michael Colombini, a six-year-old child died under tragic circumstances. Surgeons at the Westchester Medical Centre, New York, successfully removed a benign tumour from his brain. Shortly, while undergoing an MRI scan, his oxygen supply failed. An anesthesiologist brought in an oxygen tank from outside.
The steel tank shot out of his hand due to the tremendous magnetic force of the scanner and smashed Michael's head. He died two days later. Non-magnetic oxygen tanks are available for use near MRI.
On May 10, 2005, the US Food and Drug Administration (FDA) issued a public health notification titled "MRI caused injuries in patients with implanted neurological stimulators". The FDA has received many reports of serious injury, including coma and neurological impairment, in patients with implanted neurological stimulators who underwent MRI scans.
The heating of electrodes at the end of lead wires from implanted devices may cause injury to the surrounding tissues. Tattoos or eyeliners containing iron oxide may heat causing minor burns during MRI procedures.
The FDA cautioned that any type of implanted neurological stimulators for spinal cord, peripheral nerve and neuromuscular system can cause injury, though the reports received by the FDA so far involved deep brain stimulators and vagus nerve stimulators.
When exposed to intense electromagnetic fields used by the MRI scanners, the operational or functional aspects of the implant, material or device may change.
Dr Frtank G. Shellock at the University of Southern California made 11 recommendations to avoid hazards related to "missiles" and metallic objects. His articles contain specific recommendations to protect patients. His web site called www.MRIsafety.com contains useful test reports of various devices.
Dr Shellock cautioned that the presence of aneurism clips in an individual or patient who has to enter an MR environment requires utmost care. Certain types of clips are absolutely contraindicated.
Dr R.P. Klucznic and coworkers from Welford Hall Medical Centre reported the death of a patient due to acute intracranial hemorrhage caused by the movement of an aneurism clip during an MRI scan. Autopsy revealed a torn middle cerebral artery.
Dr E. Kanal and coworkers from the University of Pittsburgh Medical centre showed that 63 out of 1791 reportedly non-ferromagnetic aneurism clips moved in the magnetic resonance field. This unexpected result confirms the need for testing the ferromagnetic properties of implantable metallic devices, researchers cautioned.
In a review article on MRI safety published in the Radiology (2004) Journal, Dr Shellock and Dr John V. Crues state: "Most reported cases of MR related injuries and a few fatalities that have occurred have apparently been the result of failure to follow safety guidelines or of use of inappropriate or outdated information related to the safety aspects of biomedical implants and devices."
Patients, physicians and MR technologists, must be fully aware of MRI hazards; they must make every effort to maintain a safe MR environment to reap the benefits from this unique diagnostic tool.