PUNJAB

HARYANA

JAMMU & KASHMIR

HIMACHAL

REGIONAL BRIEFS

NATION

OPINIONS

MAILBAG

BUSINESS

SPORTS

WORLD

Saturday, September 17, 2005, Chandigarh, India
Updated at 3:00 am (IST)
Advani warns dissidents
Chennai, September 16
The BJP President, Mr L.K. Advani, today cautioned troublemakers and dissidents within the party, saying inner party democracy could not be allowed to degenerate into a free-for-all and recent cases of indiscipline have severely affected the party's support base.

BJP, Sena told to pay Rs 40 lakh for bandh
CAST YOUR VOTE
Do you feel that there has been a setback to Indo-Pak relations?


LUDHIANA

JALANDHAR

AMRITSAR

DELHI

FORUM

EDUCATION

JOBS & CAREERS

HEALTH & FITNESS

SCIENCE & TECHNOLOGY

SPORTS

SOCIETY

TRIBUNE CLASSIFIEDS

BRIDES WANTED

GROOMS WANTED

OTHERS

HOW TO PLACE ADVTS
No backward movement on peace talks: PM
New York, September 16
Prime Minister Manmohan Singh said today that through human ingenuity, India and Pakistan should reconcile their positions on not redrawing the borders for finding an acceptable solution, whereby borders become irrelevant.


In video (28k, 56k)

No camps for terrorists in Pak, says Pervez


Alleged ISI agent caught with sensitive document


More stories on World page


Editorials: Needless setback

Loo and behold


Forensic experts give clean chit to Salman
Mumbai, September 16
Investigators have been unable to establish the authenticity of the Salman Khan tapes, transcripts of which were published in July last.
Bad weather disrupts air traffic in Delhi
New Delhi, September 16
Heavy rains and strong winds disrupted air traffic at the Delhi airport for almost four hours. It was only in the afternoon, with the wind speed coming down gradually, that the incoming flights eventually started landing.
Flood situation worsens in Maharashtra
Mumbai, September 16
Though heavy rainfall in northern Maharashtra stopped since this morning, the flood situation worsened, submerging the Bhandara-Nagpur link of National Highway 6 in Maharashtra.

In Sports Tribune today

QUOTE OF THE DAY
Pakistan wants to resolve all bilateral issues through dialogue and finding a solution to the Kashmir issue is our government's top priority.
— Shaukat Aziz

FORUM
Our feature, Forum, provides our readers with an opportunity to express their views on some of the vital issues facing the country. The new question being posed is:
Should class X board exams be made optional?
Readers are invited to send their letters, not more than 150 words, to:
The Editor-in-Chief, The Tribune, Sector 29-C, Chandigarh, with 'Forum' superscribed on the envelope. The answers can also be e-mailed to:
[email protected]

— H.K. Dua
Editor-in-Chief

THE TRIBUNE MAGAZINES
On Sundays

On Saturdays

High fees at SGPC-run college leaves candidates aghast
Notification issued to accept Rs 75,000 instead
of Rs 3 lakh
Amritsar, September 16
The candidates selected for MBBS course in the SGPC-run Sri Guru Ram Das Institute of Medical Sciences and Research (SGRDIMSR) under government quota were a harassed lot today as they were asked to deposit a sum of over Rs 3 lakh as one time payment of the annual fee.


Sports page:
India wrap up first Test

Irfan Pathan, who was adjudged the man of the match, and spinner Harbhajan Singh are all smiles at the awards ceremony after India defeated Zimbabwe by an innings and 90 runs in the first Test match in Bulawayo on Friday. — Reuters

photo
Bookie sheds light on sex, stars and betting
Mumbai, September 16
A Mumbai cricket bookie has begun to sing about cricket betting and links between bar girls and Bollywood personalities in the trade. Police officials said here that a bookie Milind Nandu, alias DJ, has begun to tell all after being taken into custody.


Sports page: Murali denies links with bar dancer


2 families claim to be kin of Daya Ram
Prisoner released from Pak jail mentally ill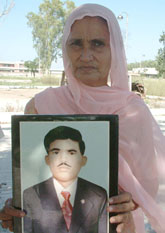 Amritsar, September 16
A Bollywood-style scene was enacted at the local Dr Vidya Sagar Government Mental Hospital today when two families claimed to be the relatives of Daya Ram, a middle-aged Indian who was recently released from Pakistan.


Murti Devi, claiming to be the wife of Daya Ram, holds a photograph of her husband taken about 38 years ago at Vidya Sagar Mental Hospital in Amritsar on Friday. — Photo by Rajiv Sharma



E - Revolution 2005:
A Two-day IT conclave

Assembly Elections - 2005

Turbans

Chandigarh is 50

EARLIER FEATURES
Indo-Pak talks run into trouble
September 16, 2005

US committed to N-energy deal
September 15, 2005
Manmohan in New York for UN session
September 14, 2005
India to buy 6 French Scorpene submarines
September 13, 2005
India, Pak should make border irrelevant: PM
September 12, 2005
Sarabjit involved in blasts, says Musharraf
September 11, 2005
EC pulls up Hooda for violating code
September 10, 2005
42 Army men feared dead in bridge collapse
September 9, 2005
India, EU to intensify fight against terror
September 8, 2005
Petrol dearer by Rs 3
September 7, 2005
Centre, Hurriyat agree to end all forms of violence
September 6, 2005