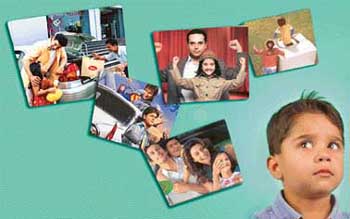 Thanks to aggressive and smart advertising on TV, youngsters have never been more aware and assertive about what they want and how. Even as parents dither over their children's never-ending demands, it remains the advertisers' day out with kids, says Priyanka Singh
Buy buy kids
There are no checks and balances to counter advertisers who zero in on kids, writes Charumathi Supraja
Laugh lines
Drawing cartoons calls for immense practice and remaining abreast of happenings around the world, says Daljeet Kaur in a chat with Rubinder Gill
Daljeet Kaur took to cartooning because she liked drawing caricatures. "They are ridiculous and humorous. Life can be boring without cartoons. Caricatures brighten us up but cartooning is no joke," she says.
Who wants to be a doc these days?
Anthony Daniels
The White male doctor is a creature of the past, verging on extinction, according to an article in British Medical Journal. No doubt there will be many who rejoice at this. The White male, they will say, has had his way for too long, in everything from the literary canon to politics. And even those who have no such ideological antagonism to White males may see in it a heartening sign of a new openness in the British society.
Haute line
Sultan of style
Known for his dazzling contribution to menswear, designer Ravi Bajaj has now created an equally fabulous collection for women, says Vimla Patil