Laugh lines
Drawing cartoons calls for immense practice and remaining abreast of happenings around the world, says Daljeet Kaur in a chat with Rubinder Gill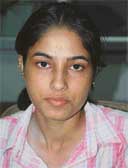 Daljeet Kaur took to cartooning because she liked drawing caricatures. "They are ridiculous and humorous. Life can be boring without cartoons. Caricatures brighten us up but cartooning is no joke," she says.
Serious thought goes into the making of such visuals because besides bringing a smile to our face they must also carry a message. A BA Part-III student of fine arts in Government College of Girls, Patiala, Daljeet took to drawing cartoons on the insistence of Rajinder Kaur, Head of the Department of Fine Arts, Government College of Girls. Rajinder was once a cartoonist herself and had her creations published in the late 1970s.
"We have youth festivals where we generally spot talent. Thatís how we found her. I thought Daljeet had the ability to be a good cartoonist. She had the grasping power, was hardworking and could adequately convey ideas through cartoons." It helped that she was good at drawing caricatures.
Daljeet has not disappointed her teacher. "Definitely, it is hard work. You have to practise a lot. My teachers ask me to draw at least two or three cartoons every day." Taking up commercial art as a subject in Class XII came as a big help. She could understand and hone her basic skills in drawing.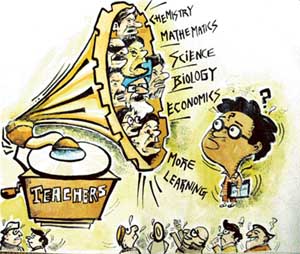 Daughter of a timber merchant and a beautician, Daljeet got a chance to exhibit her drawings at youth programmes, Daljeetís won the first position at the North Zone Youth Festival in November 2004. The next step was the All India National Youth Festival in January this year, where she stood fourth.
Besides cartoons, Daljeet also indulges in her first love, that is, making posters. Her latest one is on AIDS, which she has submitted for all-India contests.
Daljeet loves to exaggerate, but only in her drawings. "I like drawing caricatures. They can be so educative if you look at them carefully." Her favourite politician, of course, is Lalu Prasad, she laughs. "I simply like drawing him. He is so funny."
Practice makes one perfect. This hold more true for a cartoonist. "I draw, again and again. Besides that I follow the news closely. News, current events, that is where the ideas come from."
Among the cartoonists who impress her the most are Ajit Ninan and Shekhar Guerera, whose style of pen she particularly likes.