Haute line
Sultan of style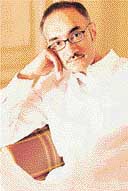 Ravi Bajaj
Have you ever heard of the Do Rukha saree? For couture designer Ravi Bajaj, this means a saree with elegant touches of Kashmiri embroidery, which according to him is 'classical eloquence of the Indian tradition.'
In actuality, this means that he uses the same motifs – inspired by Kashmiri embroidery – on either side of the saree, but in different colours.
The designer has also embellished this look with fine silver or gold touches to enhance the look of his sarees.
Other than his svelte sarees, which drape like a dream around the body of the modern sensuous woman, Bajaj has introduced the structured black look which offers jackets in silk and leather, with strongly etched shoulder lines.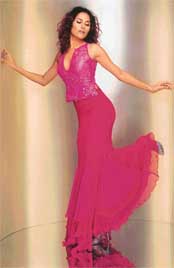 A toast to sensuous skirts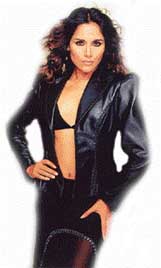 More power to black
Ravi says these jackets have an 'architectural quality' and yet have an inimitable stamp of elegant femininity.
He teams these jackets with skirts which come in layers and swirl around the body of the wearer. Ravi's seasonal black collection is inspired by geometrical shapes worn with dhoti-style trousers and churidars which offer an oriental touch.
For women's evening wear, Ravi predicts champagne colours with silver touches.
He has also introduced the tiger motif on sensuous chiffons and georgettes – but these are done in beads and sequins for party wear.
"This is my way of defining a woman's power," says the designer, "I have given fashion the power of the jungle because these sarees are teamed with cholis with choker necklines which evoke the richness of the rain forest."
After 19 years in the fashion ensemble business, Ravi Bajaj – who has opened his four-floor salon in New Delhi last year – has been crowned the Sultan of Style by fashion aficionados.