SIGHT & SOUND
Humane interest
Amita Malik

Our eager-beaver reporters and our TV channels, always ready to reduce human misery to a rat race for "exclusives" and "breaking news", met their match as they reported the exchange of prisoners that took place on the Wagah border.
Here were humble people, fishermen and farmers' kin on both sides of the border, who had unwittingly wandered into the enemy territory and paid for it by languishing in jails for years, with no hope whatsoever. There were two Pakistani prisoners who got their reprieve although they were deaf and dumb and heaven knows what agonies they had suffered in jail. One Indian family, waiting for their mother, were told by fellow prisoners in Pakistan that she was now insane.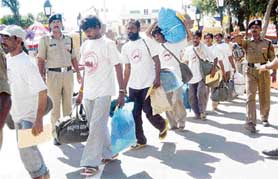 HOLDING OUT HOPE: Media exercised restraint while reporting from Wagah
As hope mingled with despair, reporters simply had to report facts, without any trimmings and ask simple questions of those who made it and record the anguish of those families whose hopes vanished as their loved ones did not return.
The terrible tragedy, in terms of suffering of the innocent victims of India-Pakistan hostility down the years, was brought home in all its starkness on the border. And, mercifully, both reporters and channels did not go over the top. In fact, the much-abused terms "exclusive" and "breaking news" were hardly visible.
To change the subject completely, there is a whole class of viewers, your columnist included, who are passionately in love with cars to the extent that they can act crazy. When 80 plus, I took part in a women's car rally confined to Delhi and actually won a prize. And my first brush with greatness was when my professor father, the first owner-driver of a car in Assam (the burra sahibs had chauffeurs) took me, his one-month-old daughter, for a drive despite protests from my mother and grandmother and had a mild collision with a car just outside the gate. In the other car was Mahatma Gandhi who, on being told that there was a newborn in the other car and after making sure that no one was hurt, gave me his blessings. So cars run in my blood, as it were.
Down the years, cars and two-wheelers have figured in very well-made TV programmes, the pioneers in India being the Alva brothers. They have set high standards in a BBC programme, shot in India on cars and two-wheelers going to dizzy heights as well as burning deserts. That women drivers were also given pride of place set a trend which has been followed by all. Now most channels have competitive programmes in Hindi as well as English and provide good guides, especially to buyers of vehicles.
Vishnu Som of NDTV has an amazingly wide range of interests. Sometimes in Afghanistan, sometimes in Siachen and now doing a series on the Great Battles of World War 11 where Indian soldiers covered themselves with glory. In between reading the news with great aplomb last week, he visited the Ferrari factory in Italy and took us for test rides on two of Ferrari's bestsellers, the F430 sports, a dream car if ever there was one, and the 612 Scaglietti.
I am sure my colleagues, motoring buffs Veerech Malik and Kishie Singh, would love to test drive them too. And I would have loved to sit in the back seat enjoying it all, but I doubt if the sports coupe has a back seat. I repeat that car and two-wheeler programmes on most channels, including the BBC's England One, give great pleasure to car and two-wheeler buffs all over India, especially the young (and the young at heart like yours truly) and may they keep up their good, exciting standards.
The Ashes and their exciting finish did not take precedence over the human interest at Wagah, but one was surprised as to how the most unlikely people kept glued to their sets, as they were, over the classic US Open tennis final between 35-year-old Agassi and his junior by many years, Roger Federer. Each was gracious about the other at the end, although Agassi's little son and baby daughter stole the show on TV. This, again, is real human interest and needs no embroidery. Eager-beaver reporters in search of "exclusives" and "breaking news", please note.