The 'broken heart' syndrome
Dr Harinder Singh Bedi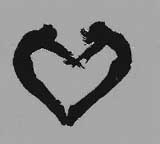 A "broken heart" is not just a cliche from Mills and Boons novels and Bollywood tear-jerkers. Nor is it just a metaphor. Broken hearts aren't limited to the domain of literature and art. Recent studies have shown that it is a real medical event — one that can kill.
It has been found that patients with psychological problems are prone to heart disease — and vice versa! In fact, in a study done by the Psychology Department, Panjab University, Chandigarh, on people, including some of the cardiac patients operated upon by this writer, it was noticed that one of the main causes for heart disease was a high incidence of anger, frustration, depression, stress, loneliness, a negative outlook, guilt and repressed feelings.
In terms of their contribution to heart attacks, psycho-social factors are on a par with smoking, high blood pressure, obesity and cholesterol problems. It has also been shown that stress as such can cause a syndrome of a "broken heart" — all symptoms of heart disease without any organic damage to the heart.
What was very surprising was that in a study carried in the New England Journal of Medicine none of the patients actually had a heart attack. In fact, few had any signs of heart disease and none had clogged arteries — the usual cause of heart attacks. Yet at least five of the 19 patients (18 women and one man) studied would have died without treatment. To find out the cause, the investigating physicians measured the levels of catecholamines — stress hormones that include adrenaline — in the patients. They found raised levels among all — up to 34 times as high as normal levels, and 2-3 times as high as those seen typically during a severe heart attack.
Unlike a heart attack, "broken heart" syndrome doesn't cause parts of the heart muscle to die.
It has been known for eons that emotions can affect the body. This gives us a physiological reason as to why stress can cause heart attack. The brain sends signals to the sympathetic nervous system to release stress hormones like adrenaline. A little bit of stress is necessary for the fight-or-flight response that enables survival when a person is physically threatened. But some people, for reasons not yet well understood, seem to have severe cardiac reactions to stress hormones. What happens is that a sudden surge of stress hormones set off by the brain stuns the heart. This appears to be a good thing gone bad. There's a huge amount of adrenaline stunning the heart — just like emotions are stunned. These chemicals can be temporarily toxic to the heart, effectively stunning the muscle and producing symptoms similar to those of a typical heart attack: chest pain, fluid in the lungs, shortness of breath and heart failure. There is impaired pumping of the heart. It bulges out, doesn't contract. The heart muscle works at 20 per cent instead of 60 per cent. All this indicates the mind and the heart are two sides of the same coin.
But the similarities with a "traditional" heart attack end here. Closer inspection using blood tests and magnetic resonance imaging scans failed to show the typical heart attack signs, such as irreversible muscle damage, elevated levels of certain enzymes or clogged arteries.
The good news is that this condition is reversible — provided the initial shock is not too great. However, even a stress-induced heart attack can't go untreated. The heart has to be supported in some cases with drugs or machines till recovery is complete. Also there may be underlying heart disease that must be addressed, and the symptoms of broken heart syndrome, if severe enough, must be dealt with quickly.
The incidence may be more than reported as most cases could be labelled as organic heart disease. Doctors believe that these heart attacks happen more often than they realise because they normally mistake them for an attack related to poor health, not emotional trauma. Anxiety or panic attacks with symptoms of hyperventilating and sometimes chest pain may relate to the broken heart syndrome. Maybe, shortness of breath associated with an anxiety attack is a subclinical form of this syndrome that just gets better fairly quickly. Though at present nobody can do much to stop these life-threatening heart spasms, it is helpful to know that as doctors become more aware of the phenomenon, they can take steps to avoid long-term damage and at least mend the physical aspects of a "broken heart."
Not surprisingly, these non-traditional heart attacks occur more in women than men. Women react differently to stress, particularly emotional stress. A woman's heart seems to be more vulnerable than a man's to this problem-the reason for this is not known as, paradoxically, women produce lower levels of catecholamines than men to a stressful event.
A happy marriage may provide women some protection against heart disease and stroke. Perhaps, it acts as a "buffer" against stress.
The connection between psycho-social factors and heart disease is so strong that today's cardiologists must ask their patients about moods, stress and social support, and how to deal with adverse events. All the findings underscore the importance of learning to cope with stress as a way of protecting one's heart. Traditional ways like yoga and meditation and non-traditional ways like laughter clubs go a long way in reducing stress and the threat to the heart. A number of detailed scientific studies have proved beyond doubt that these methods work by documenting better control of blood pressure, lesser stress hormone release and halting of atherosclerosis (blockage of arteries). The happy person is more likely to be "heart healthy,"and "heart smart".
The writer, a former senior consultant, Escorts Heart Institute, New Delhi, and Fortis, Mohali, is based at Ludhiana.