M A I N N E W S
Chautala quizzed in JBT teachers scam case
S Satyanarayanan
Tribune News Service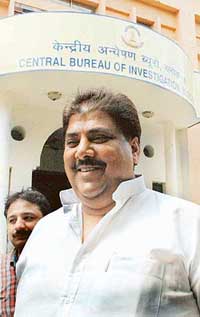 National Lok Dal leader Abhay Chautala comes out after a CBI interrogation in connection with the Haryana teachers' appointments scam in New Delhi on Friday. — PTI photo
New Delhi, September 23
Former Haryana Chief Minister's son and Indian National Lok Dal (INLD) MP Ajay Chautala was today questioned by the CBI in connection with JBT teachers recruitment scam case.
Mr Chautala, who reached the CBI Headquarters here around 10.30 a.m., was questioned by the agency's officials for over two hours to ascertain whether different lists were prepared to accommodate teachers of his choice, CBI sources said.
During questioning, Mr Chautala is understood to have been confronted with certain documents the CBI sleuths had recovered during raids conducted in several places earlier this year in connection with the scam.
Sources in the CBI claimed that Mr Chautala's questioning will help a great deal in taking the case to its logical conclusion and the agency's effort is to complete the probe in the next couple of months.
The Junior Basic Training (JBT) teachers recruitment scam had come to light after an IAS officer Sanjiv Kumar filed an application before the Supreme Court alleging that the then Chief Minister Om Prakash Chautala and his sons Ajay and Abhay had provided jobs to thousands of applicants by taking money.
During the investigation into the case so far, the CBI has claimed that reasonable amount of circumstantial and other evidence have surfaced about the involvement of several suspects and accused.
The CBI had raided several places Delhi, Kurukshetra, Palwal (Faridabad district), Bhiwani, Chandigarh and Sirsa on April 17 and claimed to have seized documents relating to the recruitment process.
These searches were conducted with a view to collecting more incriminating evidence relating to the fraudulently prepared interview lists, the lists of candidates who were to be favoured and the amounts of money which were reportedly collected from the candidates for the purpose and also for possible leads which could help the investigation.
After the raids at several premises of the Chautala family, including Ajay Chautala's official residence at 18, Janpath the CBI had then claimed to have seized several documents relating to the recruitment process, including two lists.
The raids were in sequal to the FIR registered by the CBI on May 24, 2004 against the former Officer on Special Duty and former Political Advisor to the then Chief Minister of Haryana Om Prakash Chautala, two private persons and others.
The FIR was registered following disclosure of criminal offences during the Preliminary Enquiry which was registered by CBI on December 12, 2003 on the orders of the Supreme Court dated November 25, 2003 passed in a Criminal Writ Petition.