Intricate tapestry of life
Amarinder Sandhu
Only the Eyes are Mine
by Usha Alexander. Frog Books, Mumbai. Pages 227. Rs 249.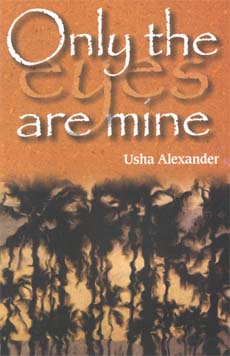 SET in India and the US and spanning two generations, Only the Eyes are Mine is Usha Alexander's debut novel. It portrays the panorama of life as the protagonist, Sita, struggles to give meaning to her solitary existence.
Alexander intricately weaves the lives of her characters together in emotionally compelling scenes. Written with a graceful flair, the language is simple. Sita's young, lonely life and her yearning for love is heart-wrenching. Duty and desires, the opposite forces, elicit different reactions from various characters. As Sita tells her niece, "You are feeling like there is a conflict between your duty and your desires. You want to follow your passions. Like a moth who burns up in a flame, your own youthful and selfish desires are what destroy you, not your duty."
Daughter of a washerman, Sita becomes the child bride of Kailas who has a dark secret. The marriage is never consummated and Sita, bound by traditions, goes about doing her household chores. She learns to read and weave beautiful tapestries.
Her fame as a weaver runs parallel to the antagonism and sullenness that creeps into her family life. Sita's childlessness is an agony for her. Flouting convention and all boundaries of kinship, she finds a lover in Gopal, her sister-in-law's husband. The birth of the child, Deepa, is silently accepted by Kailas. Sita channelises her energy in weaving tapestries, which are much sought after. She tries to find her own identity, and finds solace in the thack of the loom.
Tragedy strikes when Sita loses Kailas in an accident. Still another tragedy shatters her completely.
The action then shifts to the US, where Sita goes to manage the house for her widowed brother, Babu, and his two children, Meera and Ravi. Babu speaks Indian English, is hung up on appearances and has an American companion, Kaye. Meera is not her own person and lives for the family. She has a fling with Michael, a Mexican, boozes and puffs a few cigarettes with friends and settles on marrying Rajan, a good Indian boy. Ravi is the cynic who spurns Indian traditions, smokes pot and plays in a band. Though Sita stays with her brother's family for 20 years, Meera and Ravi never really know their aunt. For them she is just their father's sister, keeping house for them.
With death looming near, Sita does not know what to give her loved ones. She passes on the lessons of her life to her brother and his family, along with a few tapestries, which had given meaning to her life.
Covering two generations, the author offers the reader a smooth ride throughout the book. The conversational style and wit appeal to one's senses. "Families, "says one of the characters, "Jewish, Vietnamese or Indian—they never leave you alone. They make it so hard to figure out what's best for you." The other proposes a toast to families, "Here's to families! Can't live with them; can't live without them."
The clash of cultures and identities between the first and second-generation Indians in America is poignantly portrayed. The book is a saga of hardship, betrayal, survival, spirit and endurance and proves to be a good read.