Abuzz with activity
"It's unlikely that we will see more than one other business school of the stature of the ISB launched in our lifetime"
—Donald P. Jacobs, former Dean, Kellogg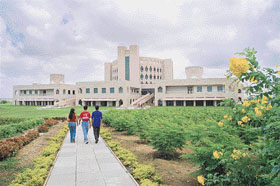 The sprawling campus set amidst nature's lap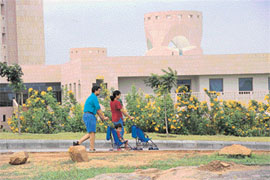 Students can live with families on the campus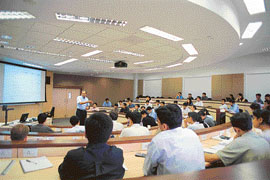 Wired classrooms and international faculty
at the B-school
Which B-school students in India get the highest salary offers? That may not be a million-rupee question anymore. The International School of Business (ISB) in Hyderabad has set new records with an offer of Rs 80 lakh per annum for its graduate from the class of 2005, the kind of pay cheque that only Ivy League school students can ask for. Most of the ISB students have been offered astounding pay packets, at least by Indian standards, from international as well as national companies. The average international salary of the class of 2005 from this premier institution was Rs 40 lakh, while the highest Indian salary on offer was Rs 21 lakh. Global companies such as Novartis, Deutsch Bank, Goldman Sachs, Mittal Steel, HSBC and Development Bank of Singapore competed with well known Indian companies like Mindtree Consulting, Birlasoft and Satyam Computers to offer leadership positions and lateral placements.
Interestingly, even Indian companies offered international positions to the ISB students. These new benchmarks in placements were possible because of the formidable reputation that the ISB has secured for itself during a short span of five years. The ISB alumni community is currently spread over 175 corporations across more than nine countries in three continents. From corporate management to high tech entrepreneurship and from government to the non-profit sector these men and women are making a mark through their leadership and accomplishments. "We have seen a substantial increase of 55 per cent in the number of international offers compared to last year. It is very inspiring to see large multinationals selecting the ISB graduates for their international positions along with the graduates from other premier schools across the world," says Ajit Rangnekar, Deputy Dean, Indian School of Business, who called the 2005 placement results "phenomenal."
The institution's promoters include 23 of the Fortune-500 companies and leading Indian business houses. The governing board comprises business leaders, entrepreneurs, and academicians from some of the world's leading business and management education institutions.
The School was conceived as a research-driven independent management institution and its partnership with the Kellogg School of Management, The Wharton School and London Business School makes it one of its kind in Asia.
The credit for bringing this top of the class institute to Hyderabad against stiff competition from metros such as Mumbai, Bangalore, Chennai and Kolkata goes to former Chief Minister N. Chandrababu Naidu, whose missionary zeal impressed the team of industrialists—Anil Ambani of Reliance, Y C Deveshwar of ITC, Keki Dadiseth of Hindustan Lever,
Adi Godrej of Godrej group, Anand Mahendra of Mahindra and Mahindra, K V Kamat of ICICI, Rajat Gupta of McKinsey & Co, Deepak Parekh of HDFC and Anil Kumar of Soros-Chatterjee Group – who were behind the ambitious project. That was in September 1998. A year later, work on the project started.
With a world class infrastructure that comprises of more than 8 lakh square feet built-up area spread over 260 acres in the vicinity of HiTec City, the IT hub of Hyderabad, this self-contained residential campus has well-equipped and wired classrooms and one of the best libraries in management education.
The School offers a one-year Postgraduate Programme; short-duration, high-powered Executive Education Programmes for CEOs and senior executives; and a two-year Research Fellowship Programme. While the post-doctoral programmes focus on research in management, the Centre for Executive Education has programmes designed for senior executives and managers with a high potential and leadership.
A bachelor's degree, GMAT, GRE score and two years of post-qualification experience are the eligibility for the much sought after one-year postgraduate programme. While preference is given to students who have demonstrated leadership qualities in their work or academic life, student diversity is taken care of for the rigorous programme. The fee of Rs 13 lakh, which covers tuition, course materials, learning resources, and accommodation expenses (it is mandatory to live on campus) that range from Rs 1.15 lakh to 1.75 lakh is described as "an investment that offers priceless returns, both in terms of monetary gain as well as personal enrichment."
However, loans and scholarships are made available. One in three students at the ISB will receive a scholarship ranging from Rs 1 lakh to Rs 14 lakh, while about 60 per cent of the class avail customised loans at concessional rates from banks empanelled by the ISB. The class of 2006 has an average of five years of experience behind it from diverse fields such as IT, banking, FMCG, biotech, manufacturing, shipping, telecom, advertising, petroleum and defence services with an average GMAT score of 690. Dr Harsh Vardhan Sharma, a medical graduate from Delhi University, enrolled into the ISB to avail of opportunities in the emerging healthcare industry. Namita Ogale, who works for Kotak Mahindra, is here to hone her skills in finance management. Vishal Saxena is a Major in the Army, while Mayank Agarwalla was managing his family-run business. "The global curriculum at ISB enables us to acquire cutting-edge management skills that work across disciplines," explains Dr Sharma about the varied backgrounds and work experience of students. "We are different from IIMs in that our students have work experience. The delivery is also unique with a large number of visiting faculty, most of them from global schools," says Prof Rammohan Rao, Dean of the ISB.
The intense one-year course, which packs inputs offered in a conventional two-year programme, is rigorous and demanding. "Don't ask us how many hours we put in a day. There are no holidays, and Sundays could be worse than the working days," says Namita. Ideal mix of resident and visiting faculty makes up the who's who of management gurus from Wharton, Kellogg, London Business School, Cornell, Chicago, Duke and UCLA among others. Besides, eminent industry leaders and professionals such as N.R. Narayana Murthy, Chairman and Chief Mentor, Infosys Technologies Ltd., Rajat Gupta, Senior Partner Worldwide, McKinsey and Company Inc., and Dr C. Rangarajan, Chairman of the 12th Finance Commission share their experiences under a faculty position called Professor of Management Practice.
The student villages, amidst quaint rock formations, have serviced apartments with TV, equipped kitchenette, elegant furniture, besides voice, data ports, campus LAN and internet alongside excellent recreational facilities including gymnasium, pool, tennis, basketball, badminton courts. "The facilities in the campus are the best. Visiting faculty from American Universities admit that the infrastructure is comparable or even better than they have there," Mayank reveals.