When poetry transcends the language barrier
C.D. Verma
Angrezi Ke Shreshth Kavi aur Unki Shreshth Kavitayen
by Kuldip Salil
Rajpal & Sons, Delhi, Pages 163. Rs 190.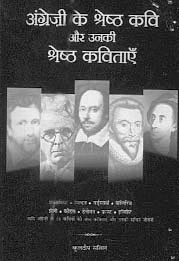 IT is rightly said that poetry transcends language barrier. Prof Kuldip Salil, a former teacher of English in Delhi University, has substantiated this fact in his just published book Angrezi ke Shreshth Kavi aur Unki Shreshth Kavitayen. It is perhaps the first book of its kind. Works of some English poets have been translated from time to time, but an anthology of English verse in Hindi is certainly something new. What is significant is that it is a translation faithful to the original.
There are certain prerequisites for a good translation, especially the translation of poetry. The translator must know the original poem inside out. He should be able to comprehend and catch the rhythm, mood, the tone of the original, and be able to communicate its spirit. He should be good at both the languages. And he should be a bit of a poet himself.
Salil is eminently suited for the job. As professor of English in Delhi University, he has been teaching these poems for decades. Besides, he is a poet himself, he has been writing gazals too. He has already brought out four collections of his poems: Bees Saal ka Safar (1979), Havas ke Shahr Mein (1987) Jo Na Keh Sake (2000) and Awaz Ka Rishta (2004). Havas Ke Shahr Mein won him Delhi Hindi Academy Award in 1990. He has also translated selections from Divane-e-Ghalib into English in rhymed couplet.
When asked as to what prompted him to translate English poetry into Hindi and Urdu poetry into English, he narrated an interesting anecdote: "When I appeared for an interview for a lecturer's job in Delhi University, I was asked a question on Wordsworth. While replying, I recited the poetic translation in Hindi of a part of Wordsworth's famous Immortality Ode. Dr Sarup Singh, the then Head of the Department of English, Delhi University, suggested to me to translate in Hindi Robert Frost's poem "Stopping by Woods on a Snowy Evening." From that day onwards, there was no looking back. I continued translating the best known poems of Shakespeare, John Donne, Milton, Pope, William Blake, Wordsworth, Coleridge, W.B. Yeats, Eliot, Auden, etc. which are now included in the anthology."
Though much effort must have gone into the translations, because translation of poetry from one language into another is an arduous task, these poems have a spontaneity about them. Here is an example from Frost's Stopping by Woods on a snowy Evening, a poem which was very dear to Jawahar Lal Nehru, who had kept a copy of it on his table in office:
Hain jangal ye kiske, mein wakif hoon shayad/Gaon mei halankey uska makan hai/purburf wadi ka karna nazara, na usko gwara yun rukna yahan hai/Koi kheto-khaliyan na nazdik ho jab/Jheel aur jangal key ain darmiyan mein/Ajab kitna guzrega ghore pe mere/Mera thahar jana shabe-shadman mein....Jangal hai tarik, gehrey, rupehele, Magar mujhko wade abhi hain nibhaney,/Kayi kos jana hair soney se pehle/Kayi kos jana hai sone se pehle.
The translations retain the rhythm and the lyricism of the original. A poem, be it original, or in translation, reaches the acme of fervor through sound and internal rhythm. And if the translator enjoys a poem, it touches his heart and mind, and then he is in a better position to assimilate and transcribe it. Salil prefers to call the translation transcreation of English poems into Hindi.
The book contains not only short lyrical pieces, such as To Celia (Ben Jonson) and profound soliloquies like To be or not to be (Shakespeare's Hamlet), but into poems like Wordsworth's Immorality Ode, and T.S. Eliot's Love Song of J. Alfred Prufrock, which would put any translator's calibre to test.
Apart from acquainting Hindi readers with English poetry, the book should be of benefit to students and teachers, as almost all the poems included in the book are prescribed in the curricula of universities all over the world. Alongside translations, English originals have also been given. She has short and perceptive introductions to poets, which is one of the major attractions of the book.