Food Talk
More than a 'fast' food
Singhara or water chestnut has a delicate flavour and can team with many other vegetables to tickle your tastebuds, writes Pushpesh Pant

What great fun we had 'pulling the chestnuts (literally) out of fire' as children in Mukteshwar (in the UP hills) and for years knew nothing of chestnuts of any other kind.
Singhare ka korma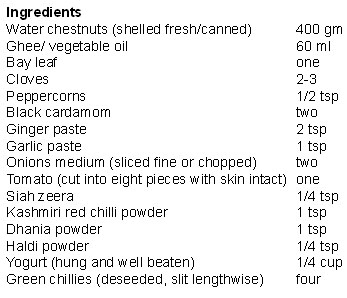 Method
Prick the water chestnuts with a toothpick, taking care not to break these. Heat oil or ghee in a thick-bottomed pan. Add the bay leaf, when it turns colour put in the cloves, cardamom and the pepper corn. When these begin to splutter add the onions. Stir fry till the onions are translucent—don't let them acquire a rich brown colour. Add tomatoes, just scald and remove, put in the garlic and ginger pastes stir for 30 seconds then add the powdered spices dissolved in 1 tsp water. Stir fry for about two minutes, sprinkling a little water, if necessary, to prevent burning.
Add the water chestnuts, stir in the yogurt, stir fry for another two minutes and add 1 cup of hot water bring it to boil and let the dish cook till water is reduced to half. Arrange the reserved tomatoes on a dish, pour in the qorma and garnish with green chillies. Serve hot with rice or roti but tastes great even cold. On a celebratory occasion, you can use a few drops of kewra jal or a few strands of saffron soaked in rosewater.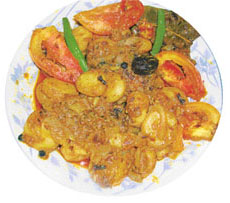 Singhara was seldom encountered in the hills and when visiting the planes we were intrigued by the sight of men harvesting singhara from roadside ponds wading in waste deep or more with a pitcher tied to their waste. But even as a kid one could easily understand why they were called 'water chestnuts' in English. The texture and taste are remarkably similar.
Singhara is associated in popular mind only with vrat ka khana—the prescribed kosher diet for the days of fasting, pure but oh, so insipid. Sans salt, the tuber of the water plant was traditionally consumed only by the orthodox pious to kill the pangs of the hunger on the day of self-deprivation.
At times, variety was attempted by making rotis akin to dosai, using flour obtained from it.
It took a trip to Thailand to discover that it is considered a delicacy and makes a wonderful dessert soaked in a mildly sweet syrup, coloured delicately and served with cool coconut milk. Since then we have enjoyed them as light filling in spring rolls and many other incarnations.
The vegetable has a delightfully refreshing crunch, very subtle taste and can blend with almost any other ingredient from mushrooms, cherry tomatoes and bell peppers to fish fowl and viands hot or cold.
Then there was this friend—a cerebral young phirang chef, constantly experimenting with vegetarian ingredients to serve delicacies mimicking non-veg dishes—who simply blew our mind with prawns, fashioned from water chestnuts, not to be upstaged by a gora-woh bhi launda, Farouk Miyan from Lucknow took up the challenge to work an Indian recipe true to its Awadhi-Mugaliya heritage. Thus was born the singhare ka qorma- an exceptional offering that plays a sensuous symphony with the notes of novelty, elegance, ease of preparation and tantalising flavours.