Shah calls the shots
Naseeruddin Shah has donned different roles at different times. Now he has turned director with Yun Hota To Kya Hota. Nirupama Dutt on the versatile actor who crossed the borders from parallel to commercial cinema and from Bollywood to Hollywood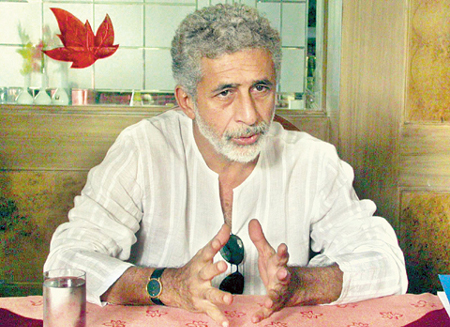 "Unlike in the West, here the stars are trapped in their own images."
When one looks for actors among stars in the Indian context, the first two names that come to the mind are those of Naseeruddin Shah and Om Puri who have been giving their best home and abroad in varied roles for the past three decades. Having begun their careers together, the two who did not even remotely possess the chocolate-hero looks or mannerisms have nevertheless proved themselves by the sheer skill of their talent from bit to lead roles. It is difficult indeed to assess who is better and there has not been a need to do so either. But whereas Om is a more instinctive actor, Naseer can well be described as an actor who thinks out his role. His versatility and range are unparalleled and he has earned for himself the reputation of being an actor's actor. Be it as Salim, the brooding journalist of Sagar Sarhadi's Baazaar or Ruiz Pereira, the narrator in Trikaal, or the slum toughie Lukka in Chakra or for that matter Ghalib in Mirza Ghalib and Mohandas Karamchand Gandhi in Hey Ram, he has been able to get right under the skin of the role. So it is significant that he has now turned to direction, a skill which he has been honing on the stage for the past decade.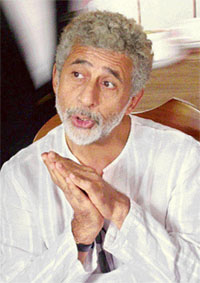 Naseer makes a point eloquently
The veteran actor turns debutant director with Yun Hota To Kya Hota, which is being filmed these days and is to be released next year. The very title holds in it the possibilities of what may happen in this role reversal of the Big Shah.
The film in which Naseer calls the shots has a cast of young actors including Arshad Warsi, Ayesha Takia, Konkona Sen Sharma, Karan Khanna, Paresh Rawal, Irfan Khan, Ratna Pathak Shah, Ravi Vaswani, Boman Irani and Tinnu Anand. Produced by Shabbir Boxwala, the movie has a serious message against terrorism but also loads of fun—a joyride with a moral. Sounds ticklish but then Naseer probably knows what he is up to. And he better be because in his plain speaking, he has been one of the most outspoken critics of the Indian cinema and star system. Many a time he has said in his interviews that "Bollywood films are all trash!"
Ask him to comment on it and he affirms his stand saying, "I have said this many times because I believe in it. With a few exceptions of course the rest is garbage. There is superficial slickness but the films just haven't moved forward in terms of content and the same old stories are being rehashed over and again." Such plain talk puts the onus on him to deliver what he feels is lacking in the Bollywood trademark. The decision to turn director has not been a sudden one. Over the past decade he has been tuning and fine-tuning as a director on the stage. Theatre was indeed his first love for he went to the Pune Film Institute via the National School of Drama in New Delhi. Ebrahim Alkazi's blue-eyed boy as he was, he went to do him proud in parallel cinema with Shyam Benegal giving him the first break in Nishant in 1975.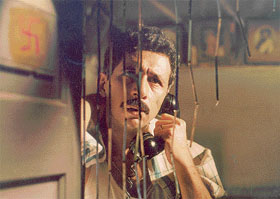 Naseeruddin's ability to breathe life into a character is his hallmark
Since then there has been no looking back for this actor as he crossed the borders from parallel cinema to commercial cinema and from Bollywood to Hollywood. Naseer's brand of acting has always been away from the kind of image that stardom thrives on. When it comes to doing a role, he is first Ruiz Pereira, Lukka or Mohandas Das Karamchand Gandhi and as he lives out diverse roles, Nasser, the actor merges in them. This is an art that stars are simply incapable of because they are first Dilip Kumar or Shahrukh Khan and only then Devdas.
There is a very interesting meeting and tete-a-tete that I recall with this master actor when he came to Delhi in 1998. He had come to town to act the Motely group production of Samuel Becket's Waiting for Godo. Benjamin Gilani had directed the play with Naseer as co-star. That was the time when the Big B of Indian cinema was having a tough time for his fans had stopped accepting him as hero and the superstar did not know how to be anything else. Tarun Tejpal was splashing the strategy to re-invent Big B's image and Kaun Banega Crorepati had not yet come to Bachchan's rescue.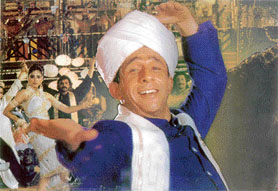 Tridev's tirchi topiwala was a landmark. With this, Naseer switched from art to commercial cinema effortlessly
Helpless Amitabh had even announced his willingness to do 'art films'. When Naseer spoke of his decision to turn director, I asked him tongue-in-cheek that wouldn't he like to take up the challenge of directing Amitabh in a new avtar? After a cackle, Naseer came out with one of his those ones, "It is impossible to do anything with Indian stars. In the West, actors start experimenting at a very young age. Here the stars are trapped in their own images. What would be a real challenge for Amitabh would be to play a villain and do it real well. But that will never happen for Amitabh will never have the courage to discard his image of the angel."
There had been quite a stir when Naseer had shown the courage to do 'Tirchy topiwala' kind of roles. The actor had stood his ground saying that he was an actor and would try his hand at it all. However, in retrospect, he was to say about the dancing round trees and singing, "For those kind of roles one has to leave one's brains at home. I am afraid I could not do them as well as I wanted to. To play the romantic Hindi film hero, one must arrest one's growth at the age of 18 when one is nothing but bravado and innocence."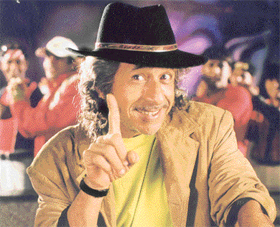 The Shah is merciless when it comes to the critique of Indian films and so now he is all set to prove that 'mein director hota to kya hota' . For one it is interesting to note that he is not acting in his own film for many middle-aged actors turn producer-director to give a boost to their own careers.
But that is something a Naseer would never need for he has enough roles being offered to him in Indian and international films. His interest is in genuinely making a good film and trying out his mettle as a director for he is well schooled in the art of acting and feels confident that he will be able to knit a film well.
Ask him that who are the directors who inspired him and his reply is, "Gulzar, Shekhar Kapoor and Sai Paranjpe." Mind you he leaves out Baba Benegal. And when it comes to theatre, there is no mention of Alkazi and Naseer says, "Satyadev Dube was a director completely in control and I would blindly do what he asked of me as an actor."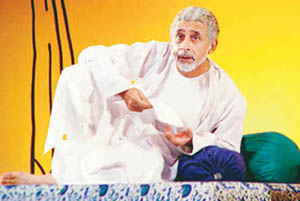 In a scene from Ismat Apa ke Naam: Shah's commitment to theatre remains intact
Call it arrogance or lack of tact, well the likes of the Shah don't require such aids, Naseer knows his mind and is never afraid to express it.
He has not taken big stars for his maiden directorial venture and insists that he has taken actors purely on the consideration that they fit the role. And this applies to wife Ratna too.
So these days he is playing around with his cast of 20 and if one sees his track record as director of Ismat Appa Ke Naam fame, he is bound to play well. Mind you, dear Naseer, it is hard to live up to tall standards. But there is no quits, for you have set the tall standards yourself.
Pestonji to Parzania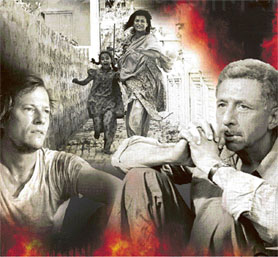 Naseer's latest offering Parzania is based on the Gujarat riots
While Naseer is busy playing director, a film showcasing him as an actor is making waves for it is to be premiered at the Pusan International Film Festival on October 6. The film is Parzania and it is set in the Gujarat riots. It is based on a true-to-life story of a Parsi family whose 10-year-old child called Parzan was lost in the mayhem. The film stars Naseeruddin Shah, Sarika and American actor, Corin Nemec. The Censors have cleared the film much to Dholakia's relief and people are waiting to see how Naseer pitches himself against the celebrated American actor.
Interestingly, Naseer has often been cast as a Parsi courtesy his lean and brooding looks. He played the memorable role of Pirojshah Pithawala in Vijaya Mehta's Pestonji way back in 1988. His co-stars were Anupam Kher and Shabana Azmi. It was a well-acted role of a slow-mover who falls in love with his best friend Pesi's wife Jerro and turns protector for the high-strung piano-playing beauty. The film portrayed the life of the Parsis in the Bombay of the 1930s.
Yet another remarkable film mirroring the Parsi community in which Naseer gave a memorable performance was Such A Long Journey directed by Sturla Gannarsson. The film portrayed an Indian Parsi family during the Bangladesh liberation war. Like all families, Gustad Noble's (he is just a clerk in a bank) also has its own family problems and it stumbles on a new socio-political problem. Gustad played by Roshan Seth moves to help his old and estranged friend Jimmy Billimoria. Naseer played Jimmy so well in a short screen time. The film received rave reviews and was screened at several festivals.