Big top, bleak future
Thakur Paramjit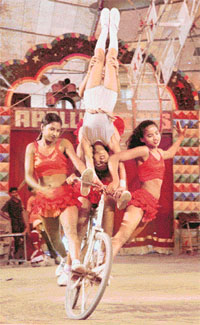 These days circus is the show of maidens. ó Photo by Vinay Malik
Stiff competition from modern means of entertainment like the cinema, television and the internet have sounded the death knell for circus. Also movements by animal rights activists and legislations in this regard have further eroded its chances of survival.
Today, circus artistes are a dejected lot whose livelihood and future is at stake. On stage, they seem to hog the limelight with applause from spectators, but offstage they lead a hard life. Their day starts at 6 am with three hours of practice session. In the afternoon, they gear up for actual performance in three shows, with one girl performing four to five items in each show.
The tented colony of a circus is divided into various sections like kitchen, tents for single men, tents for families, and those for girls. "Girls are the main source of attraction in the present day circus shows", says Ganga, a circus artiste, adding that "Now it is the show of maidens, whether they are gymnasts, trapeze artistes or bird trainers". Girls, preferably aged between seven and 10 years, are trained in gymnastics. It usually takes them a few years to attain expertise.
Interestingly, if a circus girl marries an outsider, or even a non-performing artiste of the same circus, she has to lose her job. Marriage between two performing artistes, however, is permissible.
Despite her hectic schedule of six different items in each show three times a day, Rosy, a dancer and gymnast from Kolkata and married to a musician of her circus, says, "I am happy with this life as I get to travel a lot".
Food and dresses are provided by the circus company. However, girls keep TV sets, pedestal fans and other little items of luxury in their living tents. At one time, almost all artistes in a circus were from Kerala and Bengal, but later many from Nepal entered the arena. Since the circus artistes are accustomed to this way of life right from their childhood, and are not allowed to interact with outsiders, so they donít complain.
On whether the girls join circus by choice or due to financial problems, Kalpana, one of the artistes, says, "Some are attracted by the spirit of adventure and the chance of travelling to different places while others are given to this job due to poverty. Still others join since their relatives or friends are in this profession ".
While a circus artiste earns a meagre salary, he or she leads a risky life. Except for the trapeze act, there is no net under them. A little loss of concentration, a little slip, can result in a broken limb. And thereafter, it is a life of misery. With their dwindling income, the circus companies cannot afford months of treatment of their performers.
From the glittering onstage show to the difficult offstage scenario, a circus artiste lives in two entirely different worlds. But whatever be the hardships in real life, the show must go on.