Family plot
Not many star children in Hollywood have done as well as or better than their parents.
Vikramdeep Johal checks out their balance sheet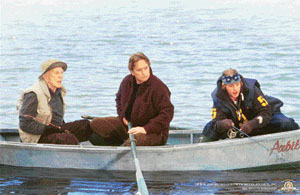 Michael Douglas (centre) with father Kirk (left) and son Cameron in It Runs in the Family
When Michael Douglas won the best actor Oscar for Wall Street (1987), he thanked his father for allowing him to step out of his shadow. Dad Kirk Douglas had indeed cast a giant shadow, scorching the screen in classics like Spartacus (1960) and Paths of Glory (1957).
It was a herculean task for Michael to establish an identity distinct from that of his illustrious father. He even turned down roles similar to Kirk's in an attempt to prevent comparisons. Eventually, Michael did become a star in his own right, and for the past two decades, he has been one of Hollywood's most charismatic and bankable actors. In an ironical twist, Kirk is now better known as Michael's father, while earlier it was the other way round.
Not many children of star actors, however, have done as well or better than their parent(s). Most of them have simply faded away, failing to live up to the (unfairly) great expectations. Even Michael Douglas' son Cameron, who acted with his father and grandfather in It Runs in the Family (2003), is finding it very tough to carve a niche for himself.
Sean Connery, Jack Lemmon, Anthony Quinn, Robert Mitchum — these are all famous names among movie buffs. But what about Jason Connery, Chris Lemmon, Francesco Quinn and Christopher Mitchum? These sons of stars were just not good enough to become star sons.
Among the actresses, there are a few who have shed the tag of being "somebody's daughter". Jane Fonda, whose father was the low-profile Henry Fonda, hogged the limelight not only for her superb performances but also for her strong political views. She won best actress Oscars for Klute (1971) and Coming Home (1978), doing one better than Henry, who finally got the coveted award in the last film of his glorious career, On Golden Pond (1981).
Her stand against the then ongoing Vietnam War and her sympathy for the radical Black Panthers displeased many Americans, including her highly conservative father. Henry and "Hanoi" Jane had a troubled relationship for many years, and it was On Golden Pond which brought them together both on screen and off it. In the film, they played father and daughter who are at odds with each other, but who eventually manage to reconcile their differences. Fittingly, it was Jane who received the best actor Oscar on behalf of her father, who was too ill to attend the awards function. He died a few months later, wishing he had Jane's guts.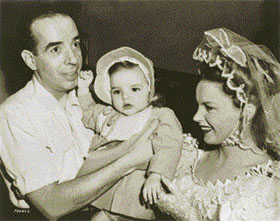 Director Vincente Minnelli (left) and actress Judy Garland with their daughter Liza Minnelli on the sets of The Pirate (1948)
While Henry's daughter made it big, his son Peter did not. Still, he distinguished himself in Easy Rider (1969) and Ulee's Gold (1997), earning Oscar nominations as a co-writer for the former and best actor for the latter. Peter's daughter Bridget has in turn outshone him with her impressive work in It Could Happen To You (1994) and Jackie Brown (1997).
Jamie Lee Curtis, who sizzled in A Fish Called Wanda (1988) and True Lies (1994), is another actress who has made a mark, emulating her father Tony Curtis (Some Like It Hot; The Defiant Ones) and mother Janet Leigh (unforgettable as the shower murder victim in Psycho).
When it comes to winning awards, very few actors have surpassed their parents. Kirk Douglas got to lay his hands on an Oscar several years after his son did, and that too was an honorary award, not a competitive one.
Liza Minnelli, the daughter of director Vincente Minnelli and actress Judy Garland, clinched the best actress Oscar for Cabaret (1972). Vincente himself had got one for Gigi (1958), while Judy received a special Academy Award for her "outstanding performance as a screen juvenile", primarily in The Wizard of Oz (1939).
The Hustons are the only family that has produced three generations of Oscar winners. Walter Huston won the best supporting actor award for The Treasure of the Sierra Madre (1948), the film for which his son John was declared best director. Another John Huston film, Prizzi's Honour (1985), brought his daughter Anjelica the Oscar for best supporting actress.
The ethereally beautiful Ingrid Bergman won three Oscars (Gaslight; Anastasia; Murder on the Orient Express), while her husband, Italian director Roberto Rossellini, got the Grand Prize at Cannes for Rome, Open City (1945). Their daughter, Isabella Rossellini, however, has never come close to winning an award.
Irrespective of success, death has been the great leveller in a couple of cases. Martial-arts expert Bruce Lee, who rocketed to stardom with Enter the Dragon (1973), died at the age of 32 as a result of a reaction to a prescribed painkiller. His son Brandon also met a tragic end. During the filming of his big break The Crow (1994), the 28-year-old was accidentally shot by another actor.
John Barrymore, matinee idol of the 1930s, and his small-time actress daughter Diana both succumbed to alcoholism. John's grand-daughter Drew Barrymore, too, seemed to be going the "family way" initially, but she subsequently mended her ways and is now a saleable name, best known for the two Charlie's Angels films.
According to Kirk Douglas, being surpassed by your children is a form of immortality. For giving this wonderful gift to their star parents, much of the credit goes to those second-(or third-) generation actors, who overcame great odds to make their (screen) presence felt.