Doors open for No Entry guy
Vicky Lalwani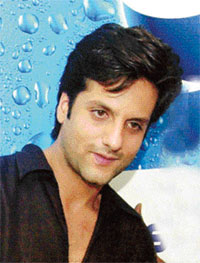 Fardeen Khan has three releases lined up in the next two months
Your plan to get married to Mumtazí daughter Natasha Madhvani has surprised many.
I donít see why. Weíve known each other since a very long time. Our families have known each other forever. Her mom and my dad did a lot of films together, including my dadís first home production Apradh.
Itís said that marriage changes a person?
You canít say that. I donít think it happens. Plus itís not required. Natasha and I are friends since a long time. We know our virtues and flaws. We accept each otherís virtues and ignore the flaws. We know when to give each other space and share a great understanding. Touch wood. Iím completely ready for it. I know itís a new phase of life. I know marriage is a bed of compromises and sacrifices.
Is it rosy on the career front too?
(Smiles) Iím very excited. I have three releases this year. All seem very different from one another. No Entry has done well and Shaadi No 1 is too funny. Then I have Ek Khiladi, Ek Hasina which attempts something never done in our cinema (pauses).
You are working with your dad in Ek Khiladi Ek Hasina. Surprisingly, your dad has done a project outside his own banner?
Yeah. It was damn exciting to share screen space with him. He is awesome, still so stylish in everything he does. But donít tell me that I was responsible for persuading him to accept the offer, for I wasnít (laughs).
Did he put inputs in your role in the film?
Yes. I think his fatherly instincts never lessened. If he thought that I could do better, he would come and tell me to do another take or tell me to concentrate more.
Itís surprising to see you doing a David Dhawan film (Shaadi No.1)?
I always wanted to work in a David Dhawan film. It never worked out before. Itís fun to work in a comedy film. I am also doing another comedy- Pyare Mohan and I play Pyare. Indra Kumar and I had been discussing a possible project for more than a year. I think itís going to be very funny. I couldnít stop laughing when I heard the script. I really like the comic genre. I would love to do more of it. Itís addictive, I guess.
Anything with dad under his banner?
Heís working on a couple of scripts, something exciting will definitely materialise but nothing concrete as yet.
You have changed. You are looking very upbeat?
Life has its ups and downs. I have had my downs. Now is the time for ups.
ó TWF