Television
Show with message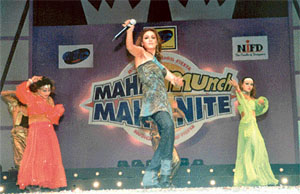 ETC Music joined hands with NIFD to present an entertaining show in Mumbai. There were popular songs, both remix and original, sung by teenager Akriti Kakar. The Man ki pyas… remix number certainly sent the blood rushing through the veins of the 9000 strong crowd. Parmita Kakar boogied to her famous item number Kuan ma kood jaoongi. Then, inevitably, there was Daler Mehndi with his usual pulsating stuff while Sunidhi Chauhan provided the finale with such lively lyrics as Man Saat Samandar Dol Gaya, Mehboob Mere Mehboob and many other compositions.
The NIFD certainly presented an interesting collection. The theme was to use natural fibre and shun plastic and other synthetic material. One of the models came on stage dressed as a bouquet to drive home the point. Well, well, well. Message wrapped in entertaining package. What should we call it, edutainment? I'm sure readers can come up with a better word.
— Randeep Wadhera
Role of honour
Time was when she used to say that playing tomboyish Monika in Saara Aakash came naturally to her because she started her acting career in Nana Patekar's Prahaar playing Dimple Kapadia's son!
Over the years, however, Sai Deodar, daughter of cinematographer Debu and Marathi film director Sharbani Deodhar, has grown into a versatile actor and can now be seen as playing an inspector in CID.
"I play Inspector Priyanka in CID and I am working very hard to make it as credible and as honourable as possible. I've chosen Kiran Bedi as my role model and I am trying to get my character as close as possible to the legendary woman cop," says Sai.
So serious is she about her character that she even declined to do Mamta on Zee as she wanted to concentrate on her role of Inspector Priyanka. She has also jettisoned Star One's Siddhant where she was playing a fiery young journalist.
But there's a role she's looking forward to and that's a real life one. Sai is all set to shake a leg or two with hubby Shakti Anand in Nach Baliye on Star One. "I am very excited about working with my husband on screen again," chuckles the star breaking into a mock jig. Sure, with such heady success life is one big song and dance for Sai.
Royalty on wheels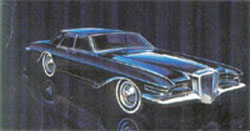 Dream Cars...named desire
In the 1950s and 1960s, major automakers ordered hand-built prototype fantasy machines in an effort to lure the masses to staged travelling shows called Motoramas. While most futuristic cars were merely full-scale models, the 1953 Motorama's Belle, the Corvette, really hit the road.
In Dream Cars on the History Channel on Sunday October 2 at 8 pm, ride through the past and see how people thought the future would look.
Dream Cars was the name given to hand-built prototypes created by the major automakers during the1950s and early 1960s. These fantastic fantasy machines were developed to set hearts racing and lure the masses into the auto shows with tantalising visions of the future.
Known for their comfort, style and sleek looks, these cars were — and still are — a designer's dream. And once you go on a ride on one of these fantasy machines, you'll never want to get off. — NF