ULTAPULTA
Batty business
Jaspal Bhatti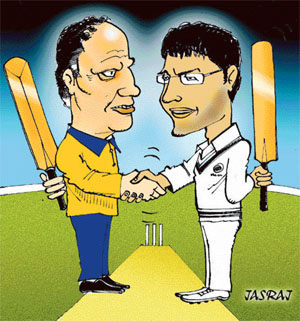 It is getting very risky to ask for a frank opinion from someone who is not your chamcha. So when Sourav Ganguly asked coach Greg Chappell his frank opinion on who between Yuvraj Singh and Mohammed Kaif should sit out in the first test, Chappell said both were OK with him. "It is you who should sit out as you are not in form". My wife, who is an ardent fan of Ganguly, commented, "The foreign coach has no business to demoralise our team captain even if he has not performed in a couple of matches".
I told her that speaking against the coach in the press after hitting a century is like complaining to one's fans, "Dekho mujhe coach khelne nahin deta tha. Maine century bana ke dikha diya".
"Ganguly has always been a mature captain and a disciplined man. If he has aired his views against the coach, he must have done so for the betterment of the team," my wife said angrily.
I preferred to agree with my wife than Chappell as he could resign anytime and go back to Australia leaving me in trouble. "I think Ganguly has been provoked by Madan Lal otherwise he would have never gone to the press on an internal issue", I said.
"Do you mean to say that veteran cricketer Madan Lal has incited Ganguly against Chappell?" my wife asked.
"My dear, I am talking about Madan Lal Khurana, the BJP stalwart who went to the press openly against L.K Advani", I explained. My wife said, "But Khurana was sacked from the party for indiscipline!"
"But Khurana had to be taken back in the BJP and Advani might go by December". My wife was happy thinking that then chances of shunting out Ganguly were bleak.