PUNJAB

HARYANA

JAMMU & KASHMIR

HIMACHAL

REGIONAL BRIEFS

NATION

OPINIONS

MAILBAG

BUSINESS

SPORTS

WORLD

Tuesday, October 4, 2005, Chandigarh, India
Updated at 3:00 am (IST)
India, Pak heading for Siachen breakthrough
Islamabad, October 3
Back-channel diplomacy was in full swing as India and Pakistan late tonight appeared to be converging towards having a formal agreement on resolving the Siachen dispute. The final word, however, would come after the visiting External Affairs Minister, Mr K Natwar Singh, calls on Pakistan President Pervez Musharraf.



World page: Differences on terrorism and Kashmir
16 killed, 70 hurt in train mishap
Bundelkhand Express derails, rams into signal cabin
Datia (Madhya Pradesh), October 3
At least 16 persons were killed and over 70 injured today when the Gwalior-bound Bundelkhand Express from Varanasi derailed apparently after the failure of brakes and rammed into a signal cabin near the railway station here, about 300 km from Bhopal.

The wreckage of a passenger train which derailed near Datiya, 280 km north of Bhopal, on Monday. — AFP photo
PM expresses shock
CAST YOUR VOTE
Are the authorities doing enough to check drug addiction?


LUDHIANA

JALANDHAR

AMRITSAR

DELHI

FORUM

EDUCATION

JOBS & CAREERS

HEALTH & FITNESS

SCIENCE & TECHNOLOGY

SPORTS

SOCIETY

TRIBUNE CLASSIFIEDS

BRIDES WANTED

GROOMS WANTED

OTHERS

HOW TO PLACE ADVTS
Unsold paddy claims farmer's life
Nadala (Kapurthala), October 3
The rising helplessness of the state's farming community resurfaced today when the body of a farmer was found hanging from a tree in the Nadala Grain Market early this morning here.
Balwinder Kaur, widow of farmer Gurdev Singh (inset), mourns along with her relatives at Batala village in Kapurthala on Monday. — Photo by Pawan Sharma



Punjab page: Badal, Dayal shocked at farmer's death
| | |
| --- | --- |
| | |
| | |
| | HIMACHAL: HP withdraws professional tax |
| | |
| | |
| | CHANDIGARH:Another scam rocks Panjab University |
| | LUDHIANA: 10-year-old girl gang-raped |
| | OPINIONS: Bali blasts again |
| | BUSINESS: GAIL has second thoughts on Doraha plant |
| | |
| | |
| | |

In Education Tribune today
QUOTE OF THE DAY
The Governor is not confining himself to the role as demarcated by the Constitution and he is playing an active political role in the state.
— Nitish Kumar
THE TRIBUNE MAGAZINES
On Sundays

On Saturdays

Farmers suspend harvesting of paddy
Chandigarh, October 3
While there is a great confusion among agriculture experts regarding what disease actually caused maximum damage to paddy crop, at many places farmers have suspended paddy harvesting operations. (More stories on Punjab page)

NDA to approach Kalam for Buta's removal
New Delhi, October 3
The NDA today said that it would approach President A.P.J. Abdul Kalam for the removal of Bihar Governor Buta Singh for allegedly playing a "political role" in the state.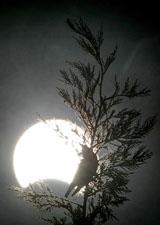 A bird is silhouetted on a tree in front of a partially eclipsed sun in West Malling, in Kent, southern England, on Monday. — Reuters
Fresh global tenders to be called for 155mm howitzers
New Delhi, October 3
As the CBI probe into the Denel pay off case has hit the Army's effort to upgrade artillery fire power, fresh international tenders would be called for the acquisition of upgraded wheeled and tracked 155 mm high calibre howitzers.
India, US sign treaty on criminal matters
New Delhi, October 3
India and the USA today signed an agreement to help each other investigate offences related to terrorism, narcotics, trafficking, economic and other organised crimes.
RAW chief gets 2-year extension
New Delhi, October 3
The government today gave a two-year extension of service to RAW chief P K H Tharakan till January 31, 2007, or until further orders, an official statement said here.


Australian duo wins Nobel Prize for Medicine
Stockholm, October 3
Australian research duo Barry J. Marshall and J. Robin Warren were today awarded the Nobel Prize for Medicine for their breakthrough research on how to treat stomach ulcers.
Australians Robin Warren (left) and Barry Marshall toast their success with a champagne at Swan Berry Cafe in Pert on Monday, after winning the 2005 Nobel Medicine prize. — Reuters
FORUM
The new question being posed is:
Should class X board exams be made optional?
Readers are invited to send their letters, not more than 150 words, to:
The Editor-in-Chief, The Tribune, Sector 29-C, Chandigarh, with 'Forum' superscribed on the envelope. The answers can also be e-mailed to:
[email protected]

— H.K. Dua
Editor-in-Chief


E - Revolution 2005:
A Two-day IT conclave

Assembly Elections - 2005

Turbans

Chandigarh is 50

EARLIER FEATURES
Shahabuddin booked for 'appearing' in exam
October 3, 2005

Deepender Hooda wins by huge margin
October 2, 2005
Nationwide CBI raids
October 1, 2005

Govt clears armed forces tribunal
September 30, 2005

LNG, gas pipeline deals on, says Iran
September 29, 2005
Ganguly, Chappell bury the hatchet
September 28, 2005
Ex-chief of BCCI wants Sourav to go
September 27, 2005

Ganguly, Chappell to meet BCCI panel separately
September 26, 2005
World wants India to succeed but bottlenecks are within: PM
September 25, 2005