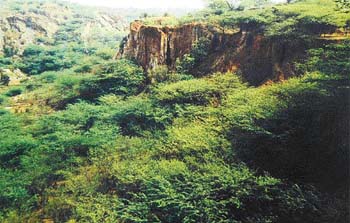 The Army has strengthened its forces to wage a battle against deforestation and ecological degradation. Himachal Pradesh is the sixth and the latest state to join the Territorial Army in its go-green drive.
Vijay Mohan reports
The Barren Bhatti mines area in Delhi, which has been converted into a lush green stretch by the Territorial Army.
There's fun in flexing muscles
US wrestlers Simon Diamond, Shark Boy and Sonjay Dutt, who were recently in Ludhiana on a promotional tour, give Shveta Pathak a blow-by-blow account of what they enjoy doing most.
Kalpana's Journey
Harsh A. Desai
She looks at you from the cover of the latest Amar Chitra Katha comic No. 437 with clear, confident eyes. She is wearing an orange NASA spacesuit. And though there is an American flag just behind her right shoulder, you know that she is an Indian woman and are proud of the fact.
Dressed for dandiya
The choli adds colour and oomph to garba, writes Dhanwanti Keshavrao
The chaniya choli season is here with the Navratri festival. With their colourful designs and graceful flowing skirts, the chaniya cholis are ideal for this festival.