Dressed for dandiya
The choli adds colour and oomph to garba, writes Dhanwanti Keshavrao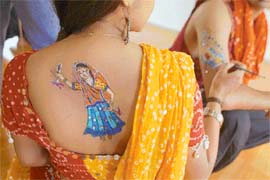 The chaniya choli season is here with the Navratri festival. With their colourful designs and graceful flowing skirts, the chaniya cholis are ideal for this festival.
As fashion designer Kunal Chandra explains, "The beauty of the chaniya-choli lies in the three separate parts of the garment. While the chaniya or skirt is flowing and flares around the wearer, the choli or blouse is snugly fitted and accentuates the female form. The odhni acts as a scarf or covering for the head and body."
The original wearers of this exotic dress were from Kutch, Gujarat and Rajasthan. The chaniya-choli gives flexibility for the wearer to look both modern and ethnic at the same time. Most designers juxtapose the old styles of draping and cut with daring flashes of their own creativity to create the modern day chaniya choli. This exotic dress is also very popular in places like Sydney, Toronto and Johannesburg.
The garba or dandiya raas, the ritual dance with dandiya sticks to keep tone, gets its verve by the flared garment, which is suitable for the swirling movements of the dance.
Any type of fabric, be it cotton, silk, khadi, chiffon, organza or satin cotton can be used to make this costume. Even for their weddings, Gujarati women tend to choose chaniya cholis made out of brocade.
According to designer Prashant Mehta, the chaniya designs vary according to the occasion they are being worn for. "For Navratri, the ethnic mirror-work embroidery is popular with a bit of patchwork. The flare of the chaniya should be about nine metres wide. For formal wear and weddings, the embroidery is heavier in pearls, silk, sequins and zari. Here, the chaniya is umbrella shaped."
The choli too comes in a number of designs. These can be short, stopping above the waist; or long, extending below the waist as a loose blouse. They can be plain, or embroidered and can be stitched as backless tie-ups as well.
Besides the chaniya choli, what needs a mention is the odhni, which is a must for all 'properly' dressed Garba dancers. The odhni is a piece of cloth, like a dupatta and can be either printed, plain, decorated with embroidery work. The odhni need not necessarily match the chaniya-choli and can be used as a case of mix and match dresses. Some exotic odhnis can cost as much as Rs 8000.
The Rohanas tribals of Kutch specialise in skirt work. The Sodhas use a geometric style for their embroidery. The Garacia Jats are experts in tiny embroidery on the yoke, which intermingles with red, orange, blue and green threads. The Dhanetah Jats love embroidering broad pear-shaped mirrors using orange, black, yellow and red in chain stitch. — MF