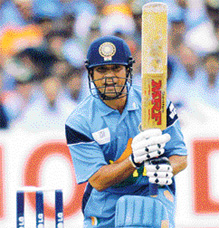 Open challenge
The Challenger series is the ideal platform for cricketers to make an entry or a comeback into the Indian team, writes Vikramdeep Johal
The annual "selection test" for Indian cricketers, the Challenger series, is here again. At stake is a place in the Indian team for the home series against Sri Lanka and South Africa. India Seniors, led by Sourav Ganguly, are pitted against VVS Laxman-led India A and Dinesh Mongia's India B. Ganguly is a doubtful starter due to an elbow injury.

Sachin Tendulkar's return is likely to be the talking point of the tournament


Spellbound
Amlan Chakraborty
He played his last Test in 2002 and was seen last in the ODI squad more than a year ago. Jettisoned by Team India, Sanjay Bangar has been knocking on the selectors' door with his performance with the willow and the cherry but that proving inadequate, the allrounder has changed the spelling of his name to Sunjoy, hoping for better days.
Changing the spelling of his first name has worked for Railways cricket team captain Sanjay Bangar



Ace of grace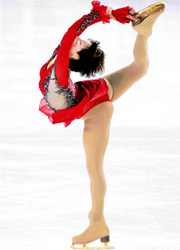 World figure skating champion Irina Slutskaya of Russia performs on her way to winning the gold medal in the women's free singles event at the Japan International Challenge competition in Tokyo.
— Photos by AFP, Reuters

Big-game hunter
Arvind Katyal
There's no resting on his laurels for Raja Randhir Singh, a distinguished sports administrator and currently the lone executive member from India in the International Olympic Committee. Having played a key role in India's successful bid for the 2010 Commonwealth Games, he is determined to ensure that the 2014 Asian Games, too, come India's way.

IN THE NEWS
Fair and foul
The match was hailed as a victory in the fight for equality — but it was the players themselves who ended up fighting in the final of Pakistan's first Women's Football Championship. Last week's title clash between Punjab and Water and Power Development Authority descended into an ugly brawl after a solitary goal from a spot kick won the trophy for the Punjab team.


Federer at his best

Ganguly down, not out