Mink likes to be couch potato
Gayatri Rajwade
Tribune News Service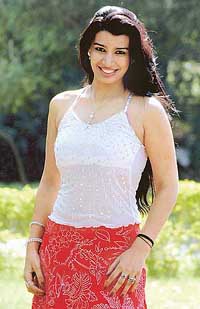 Bollywood actor Mink takes a break at Shanti Kunj, Sector 16, Chandigarh, on Saturday. — Tribune photo by Pradeep Tewari
Chandigarh, October 8
Her sparkling vivaciousness soon has those around her grinning like Cheshire cats! In the city, on a break, to meet up with friends and paint the town red (McDonald's being the first casualty!), Bollywood actor Mink charms with her earthy earnestness. "I am a very real person, people who are grounded, rooted, do not change at least with material acquisitions and fame."
Fifteen films old, a veteran of sorts (she has braved the vagaries of the film industry for eight long years!) this pretty lass has now turned her almond-shaped perfectly kohl-lined eyes towards film production. "My brother Punnu and I decided to do something creative, something concrete with our lives.
We launched our production outfit 'Bro And Sis' and have just completed our first film, 'Katputli' a psychological thriller."
Starring Milind Soman, the film has all of Mink's friends like Ruby Bhatia, Ashmit Patel, Aseem Merchant and even stalwarts like Seema Biswas sharing the centre stage. Their second film, "Neend" boasts of Sunny Deol has been held up due to date problems, which are being ironed out.
Mink's entry into Bollywood has the whiff of a fairy tale to it. A Dev Anand discovery, Mink made her debut in his film "Gangster" which bombed at the box-office, but 13 year-old Mink had been noticed!
"I forgot to thank him for introducing me. Really it is a big honour to be spoken of in the same breath as Zeenat Aman and Tina Munim."
Born and brought up in Germany, the dazzle of tinsel-town did not sway Mink. "I grew you grow up with a worldly confidence, that is what living abroad does to you. In India, strangers are a big taboo and if someone smiles at you, you know something is brewing," she laughs heartily, "Therefore, you do not become an ass and get carried away."
She is the quintessential princess at home and the moneybags do not mean all that much to her. "Sure money is important to live, but I have seen this all. When I was born, I was brought home in a Mercedes!"
She can wear shorts, talk to the spot-boys and the big stars with equal élan but she will not let a fly sit on her if that is what she does not want.
"I am open but am also very conservative, religious and very strong. I have never come across a situation where anyone has tried to take advantage of me because I never give that vibe."
An intense family person, who draws her succour from her mom (for her strength), likes to cook continental food, loves swimming (gold medallist no less!), loves her diamonds on her fingers and is happiest being a couch potato.
An awesome figure to match her captivating smile, Mink does not work out unless she is shooting, loves to eat burgers, sausages, pizzas and its ilk and does not drink or smoke. "I love people, life and conversations."
And men beware! Brawn does not attract her as much as intelligence, wit and the ability to laugh with her and it's an Abhishek Bachchan of all Bollywood hunks who gets her votes on all counts!