Wednesday, October 12, 2005
Tourism sector beckons
There are a host of options for those looking to make a mark in the lesser-explored but relatively new job areas. Tourism is all set to be an industry that will be the world's largest by 2010, reports Geetanjali Gayatari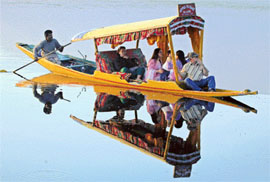 It's next only to the booming IT industry. The service industry today is a happening field, beckoning those who can serve with a smile. Be it travel and tourism or hospitality, retail businesses or event services, the sky is the limit as far as scope and opportunities are concerned in these fields.
As per the statistics available, India , with her 17 per cent jobless graduates, could very well cash in on this booming sector. A study carried out recently has pegged the job availability in the service sector at almost 120 million of the total 200 million by 2020.
And, while others tread the traditional path in choosing their professions, there are a host of options for those looking at making a mark in the lesser-explored but relatively new job areas.
Tourism, it's predicted, is likely to assume dramatic proportions with the world turning into a close neighbourhood. It is all set to be an industry that will be the world's largest by 2010.
According to Dr Devesh Nigam from the Institute of Tourism and Hotel Management, Bundelkhand University, Jhansi, once the students complete a diploma or a masters degree in tourism, they can branch off into opening a travel agency or working at one, get employment as tourist guides and interpreters, organise tour excursions and do a lot more. In the aviation field, these graduates can get into sales and marketing or becoming ticketing agents or even pick up a job in cargo operations among others. The more you explore, the greater the opportunity that exists in the service sector.
Besides adventure tourism and historical tourism, medical tourism in India , too, is coming of age. Interestingly, while a beginner's salary can be anything from Rs 8,000 to Rs 15,000, the trend is gradually to move towards target-oriented payment in the private sector. The private industry wants results, which explains this shift from fixed salaries to flexible salaries. However, it is still in its nascent stage though it is likely to spread its wings soon. Companies are now beginning to set targets for their employees and pay them accordingly, adds Mr P Thryambakam from the Frankfinn Institute, Hyderabad.
Another developing field in the service sector is that of banking and related services. The days to come spell out a lot of expansion in the loan sector as also credit cards. Call centres and the software sector have already arrived as far as India is concerned, maintains Mr Kamal Manak Tola of a tourism institute at Gurgaon.
The only requirement for the service sector, experts point out, is that candidates and employees should be willing workers, serving with a smile and a certain fluency in communication skills. However, they are of the opinion that this growing industry would soon be in need of specialists for which most institutes are ill-prepared.
We lack education and training programmes in most upcoming fields. While some headway has been made with regard to tourism, with a handful of universities providing some courses, there exists a yawning gap between the demand and supply of professionals in these upcoming fields. We need to address that through a concerted effort and by beginning short-term courses in these fields, maintains Dr Nigam.
The service industry, being a people's industry, also takes into its fold the hospitality services, the ITES and BPOs, transportation, telecommunication and communication, retail business and event services. The list is endless.