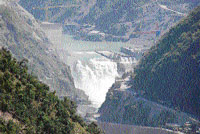 1 Who has won the Nobel Peace Prize for 2005?
2 What was the epicentre of the earthquake that struck parts of India and Pakistan on October 8?
3 Who recently became the world's third space tourist?
4 Name the first Indian sportswoman to feature on the cover of Time magazine and to be included in its 2005 list of Asian heroes.
5 In which city is Jinnah House situated?
6 Which film by Amol Palekar will be India's entry in the foreign film category contest of the prestigious Oscar awards?
7 Which top IAF official recently made a sky diving (para-jumping) national record?
8 In memory of which former Chief Minister of Punjab was a postage stamp released recently?
9 On which river is the Baglihar hydroelectric project situated?
10What is the name of Iran's parliament?
11For which field are Shanti Swarup Bhatnagar awards given?
12In which year was the United Nations Charter adopted?
13What is the full form of NABARD?
14Name the largest diamond-producing company of the world?
15Name the captain of the Indian women's cricket team which recently thrashed the Pakistani side 4-0 in a one-day series.
Name……………………
Class………………………
School address …………..
Winners of quiz 242: The first prize by draw of lots goes to Yogesh Mehta, X-B, SD Modern Public School, near Gita Bhawan, Hansi-125033.
Second: Arjun Sheoran, XII-C1, Bhavan Vidyalaya, Sector 27-B, Chandigarh-160019.
Third: Sash Taneja, V, SBP DAV Public School, Bigher Road, Fatehabad- 125050.
Answers to quiz 242: Afghanistan; France; 933 females per 1000 males; Microsoft; Oil India Limited; Embraer; Afghanistan; Tarapur; Magnetic Resonance Imaging; Rita; Nafisa Ali; Junichiro Koizumi; Andrew Flintoff; Fernando Alonso; BCCI.
Cash awards of Rs 400, 300 and 200 are given to the first, second and third prize winners, respectively. These are sent at the school address.
Note: Kindly mention the pincode of your place to facilitate the delivery of the prize money.
Answers can also be sent at [email protected]
— Tarun Sharma