Wednesday, October 12, 2005
Smart Skills
Enhance profile, the correspondence way
Usha Albuquerque

Sangeeta wants to take up diploma in interior design but also wants to complete a degree. Anjali is now married, and as a B.Com graduate wonders if there is any course she can do so as to get a good job. Nitin is unable to get into a good college, as his marks were low. So what can they do?
The answer is simple ó enroll for a distance education programme. The freedom to learn at will, choose the subjects of oneís choice and take examinations without the stress of severe competition makes the distance education programme very attractive to young learners. Distance education fulfils the need of those unable to attend regular classes. This has brought about a tremendous change in the education system in the country. Suddenly with the help of modern communication technologies through information super highways, thousands of learners, spread across a distance, have access to higher education. They now have the means to acquire the necessary qualifications for employment.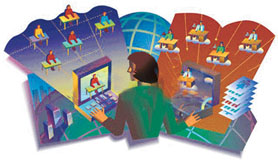 If you are one of those who want to go for higher studies but cannot attend formal classes, then sign up for a correspondence course. The conveneience of the system has made it possible for those unable to compete in the highly competetive selection system for the regular courses to have an alternative route. Students who are working and have missed the opportunities of attaining higher education due to social or economic constraints, those who wish to supplement their educational qualifications, or those who do not have locational access to higher education can avail of this option. Moreover, the cost effectiveness of the distance education programmes, coupled with the in-built flexibility it offers has been a crucial factor in the popularity of what is called "classroom without walls".
Today several universities, including the worldís fifth largest, Indira Gandhi National Open University, offer a variety of courses through distance learning for school and inter-level, graduate and postgraduate studies. They cover a wide variety of courses from business management, economics and all sciences to professional courses in teaching, law, library science, journalism, computers, biotechnology, agriculture and linguistics, and so on.
With the availability of correspondence courses, students like Sangeeta now have wider options when taking up vocational and job-oriented courses such as fashion design, hotel management, multi-media, travel and tourism and so on, which provide quicker work options, as they can now simultaneously pursue graduation through correspondence.
Alternatively, there is a growing popularity of professional courses such as the chartered accountants course, company secretary course, chartered financial analysts course, and other financial planning programmes supplementing regular graduation programmes. While doing a regular BA or B.Com which is unlikely to get you a job, you can take up any of these programmes and be better suited for the job market when you qualify.
And if you are already working and wish to enhance your qualifications for professional growth, what better route to do it than by taking up a course in business management, information technology, tourism, mass communication or the hundreds of others available, through correspondence.
Many women, retired persons or first-time learners have also found distance education very valuable. Courses on child welfare, food technology, entrpreneurship training and so on have enabled those unable to complete their education, or interested in further widening their horizons to do so virtually in the comfort of their homes.
There are around 64 universities and 10 open universities in India offering distance learning programmes. The four major open universities include Indira Gandhi National Open University (IGNOU), New Delhi, B.R Ambedkar Open University, Hyderabad, Yashwant Rao Chavan Maharashtra Open University (YCMOU), Nasik, and Kota Open University, Kota. Open universities offer flexible course options that allow those who may not have a formal qualification but have reached the minimum age requirement of 18-20 for first-degree courses, admission to any course, after a written entrance test. Moreover, the courses can be taken at the studentís pace.
Flexibility
On the other hand, distance education centres of universities grant admission to those who fulfill the same educational requirements as for the regular courses, but are more flexible with regard to minimum percentage marks. Those seeking admission need to have passed the qualifying course for admission. These universities offer graduate, postgraduate, M Phil and PhD courses, as well as diploma and certificate courses, many of which are job oriented. The correspondence courses provide students with course materials, contact classes, and often multimedia facilities at nodal centres, or television/radio linkages. Most open universities have regional centres and personal contact programmes spread all over the country, making it easier for candidates from distant locations to coordinate with their course instructors.
One of the premier distance learning educators is Indira Gandhi National Open University, IGNOU, an Open university which has an approximate enrolment of about 1,60,000 students. It offers a wide variety of courses encompassing humanities, social sciences, pure sciences, commerce as well as professional programmes such as engineering, computer sciences, management and nursing. With a network of 48 regional centres and over 1000 study centres spread all over India, some even in remote areas, the North-East and at Army command centres, IGNOU has been able to provide effective and quality education to thousands in the country. Assignments are well planned and meticulously designed by eminent professionals and academics. IGNOU also has a state-of-the-art electronic media production centre with sophisticated audio video production facilities which not only train media professionals but also produce audio visual programmes to augment its study materials.
The School of Correspondence Courses and Continuing Education at Delhi University is the first correspondence school set up in India. It offers many of the graduate and postgraduate courses offered in the regular stream, with course content similar to the one applicable to students of the regular teaching mode. For those students unable to make it past the high cut-offs for college admission, the SCCCE courses are a boon.
Other universities such as Pondicherry University offer a range of unique courses in various management programmes like human resource management, foreign trade, software marketing and financial management through the distance mode, which cater to a large number of mid-career professionals along with freshers. Chennai-based Annamalai University provides a series of similar distance courses including banking and management along with hospital management and tourism management. It is among the universities which cover a large number of science subjects such as sugar technology, hydrology, petroleum exploration and others through distance learning. There are many more interesting and unique courses offered by the universities worth exploring.
While the correspondence education system offers cost advantage, easier access, wider reach and flexibility in timings, the drawbacks have been its inability to impart any credible practical skills to the learner that could make him fit for available jobs in the industry. To overcome this hurdle and yet train larger numbers skilled and eligible for current and emerging jobs, Punjab Technical University, launched its new distance learning programme. The first technical university in India to have introduced technical courses under the Ďdistance educationí mode, PTUís revolutionary new distance education model imparts technical education through two hours of daily classroom or practical training in labs, six days a week, in easily accessible distance learning centres of the university and at a fraction of the cost compared to regular engineering/professional courses.
This has been made possible through private partnership for the distance learning study centres spread throughout the country, giving students the benefits of classroom learning from trained faculty members. Moreover, each PTU learning centre has well-equipped computer labs with high configuration computers, and internet facility for practical training of the students. PTUís courses cover six different professional streams, information technology, management, fashion, hotel management, paramedical sciences, including biotechnology and media technologies. Each study centre functions like a regular college campus with a range of student activities, such as cultural programmes, debates and so on, ensuring that students donít miss out on off-campus learning, so important for their overall development.
In addition, various professional courses are also offered by professional/ private institutions, through the medium of distance education. Other than the better known courses of CA, CWA and CS, there is Institute of Chartered Financial Analysts which offers courses in finance, management and related areas through correspondence, the All India Management Association which conducts courses in several of the fields of management, and professional technical bodies such as the Institute of Engineers that also conduct licensing examinations for which the students have to prepare on the basis of a structured curriculum.
Moreover, today there are a number of courses available through the internet, where candidates just have to log on and register themselves. Direcway Global education, offers the PG diploma in business management of IIM Kozhikode and Calcutta to students through online interactivity.
Job market
The job market is highly competitive today and the best jobs go to those who have the required educational qualifications. Of course while during direct placements, recruiters may prefer those who have completed regular courses, where selection is made through a written examination or on the basis of eligible qualifications, the distance education programme is as good as any other. The validity of the degree acquired through correspondence is the same as that of a regular degree, as long as the basic eligibility requirements are satisfied. Moreover, if the distance education is undertaken along with some practical work experience, you fill in the gap for the prospective employer.
Those looking at a distance learning education need to keep in mind that one has to be selective. Every day newspapers carry enticing advertisements of new courses offered by institutes that may not be recognised. Recognised universities and technical institutes are widely listed and can be confirmed through the internet. The Distance Education Council monitors the courses offered through this mode. You can check on the validity of the institute and the course from the website of the department of secondary and higher education at www.education.nic.in
So whatever course of study you may opt for, itís comforting to know that distance education is here to stay as a viable and widely acceptable alternative to formal education. The demand for such courses is rapidly increasing, especially with the development and growth of information technology. Moreover, as tertiary education is beyond the reach of hundreds of youngsters today because of the costs, and the highly competitive selection procedures in most universities, open universities and the distance education of universities and institutes will continue to provide quality education to greater numbers of people, through the medium of distance education.
The writer is a noted career expert