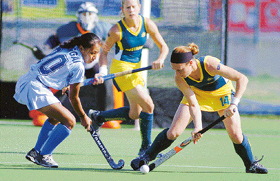 So near yet so far
The Indian women's hockey team needs to iron out its flaws to defend the Commonwealth title next year, writes M.S.Unnikrishnan
Indian girls won't find it easy to retain the Commonwealth Games hockey title in Melbourne next year. There are many soft spots in the team which need to be firmed up. And there are also a few challengers who are determined to topple India, including Australia and last year's runners-up England.
India frittered away a 2-0 lead to Australia in the final of the Indira Gandhi Gold Cup
to finish runners-up. — Photos by AFP/PTI/Reuters

Chessboard of Indian cricket
K.R. Wadhwaney
"Indian cricket has been built downwards". This observation, made 60 years ago, holds good even today. What are the reasons? There are many. But one over-riding reason is that a majority of the cricket Board's office-bearers, particularly presidents and secretaries, have not played any recognised cricket.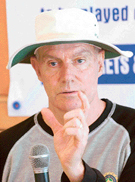 Wrong-arm tactics
Vikramdeep Johal
Imagine Brett Lee charging towards the wicket from his long run-up, only to deliver the ball under-arm. It isn't a prank — he has done it simply because over-arm bowling is outlawed. How boringly slow the game of cricket would be if the players were forced to bowl without raising their arm! The ball would take ages to reach the batsmen, and they would have to shake themselves out of slumber to play a shot.
In 1981, Greg Chappell triggered a controversy when he instructed his brother to deliver the last ball of the match under-arm.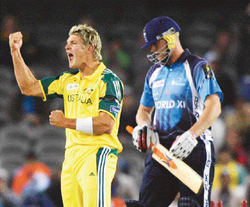 IN THE NEWS
Super Shane
Ramandeep Singh
The ICC World XI had top-class allrounders like Andrew Flintoff, Jacques Kallis, Shaun Pollock and Shahid Afridi, yet it was an Australian who easily stole the limelight from them. The trump card for the Aussies turned out to be Shane Watson, who shone with a superb all-round performance which even Flintoff, the Ashes hero, would have been proud of.
With the emergence of Shane Watson (left), Australia have found a genuine allrounder after several years.